Where's Saturn? Is that a UFO--or the ISS? What's the name of that star? Get the answers from mySKY--a fun new astronomy helper from Meade.

SOLAR WIND: A solar wind stream is buffeting Earth's magnetosphere and causing mild geomagnetic storms. High latitude sky watchers should be alert for auroras.

COMET LINEAR VZ13: Fuzzy green comet Linear VZ13 makes its closest approach to Earth tonight. Distance: 86 million km. Shining like an 8th magnitude star, the comet is too dim for unaided eyes, but it is an easy target for backyard telescopes of all sizes. Find it after sunset not far from the handle of the Big Dipper: sky map. [3D orbit] [ephemeris]

Last night, July 13th, Comet Linear VZ13 passed by a pair of galaxies. First came NGC5866 (M102), photographed by Paolo Candy at the Cimini Astronomical Observatory in Soriano, Italy: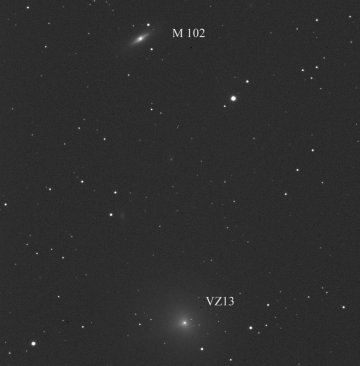 Eight hours later, the comet encountered NGC5907, also known as the splinter galaxy. "What a nice bonus," says David Lee of Victoria, British Columbia, who was surprised to find the galaxy in his photo of the comet.
more images: from Alex Conu of Pauleasca, Romania; from Doug Zubenel of Linn Co., Kansas; from Paolo Candy of Soriano, Italy; from Paolo Laquale of Foresta Mercadante Cassano Murge (BA). Italy; from Marian Urbanik of Rakova, Slovak Republic; from Ernesto Guido and Giovanni Sostero of the Remanzacco Observatory in Italy;
LOW RAINBOW: "I've never seen a rainbow like this before," reports Ben Dickmann of Cedar Grove, Wisconsin. "An afternoon thunderstorm had just passed through on July 5th" when this giant rainbow-colored fringe rose out of Lake Michigan: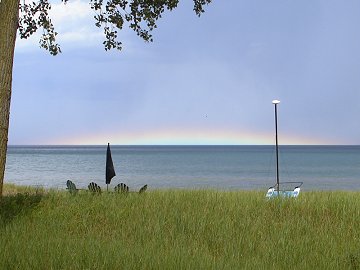 "In the photo, the sun is high and behind my back," adds Dickmann. And that is the key--a high sun.
Atmospheric optics expert Les Cowley explains: "The top of this rainbow is almost level with the horizon because the sun was high in the sky. Rainbows are always centered on the point directly opposite the sun. As the sun sets the top of the rainbow rises."
A special altitude, he says, is 42o. That's the height of the sun for which a rainbow's top is perfectly level with the horizon. The sun behind Dickmann's back had just sank below 42o degrees, causing the rainbow to pop up out of the waves.
---