Where's Saturn? Is that a UFO--or the ISS? What's the name of that star? Get the answers from mySKY--a fun new astronomy helper from Meade.

COSMIC TRIANGLE: Tonight, July 13th, step outside and look west into the sunset. You'll see a charming cosmic triangle with Venus, Saturn and Regulus as vertices: sky map. On July 16th the triangle becomes a quad when the crescent Moon joins the group. Mark your calendar!

NEW SUNSPOT: A new sunspot is breaching the sun's surface today. In Campinas, Brazil, Rogerio Marcon used his Coronado SolarMax40 to capture the emergence: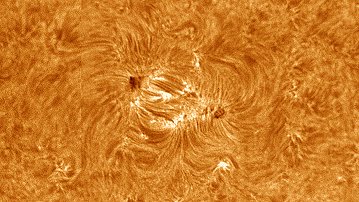 A panoramic view shows the new sunspot, numbered 964, in relation to old behemoth 963. So far sunspot 964 poses no threat for solar flares, but this could change if the sunspot's rapid growth continues. Stay tuned for updates.
more images: from B. Smith and J. Stetson of South Portland, Maine; from Howard Eskildsen of Ocala, Florida; a sketch from Eric Soucy-Lacroix of Ohain, Brabant wallon, Belgique; from Enrico Perissinotto of Premariacco (UD) Italy.
MAMMATUS SUNSET: The day was just coming to an end on July 9th when Lori C. of King City, Ontario, went outside and witnessed this fantastic mammatus sunset: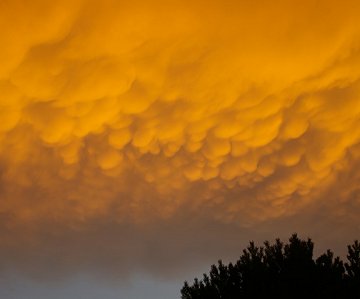 Photo details: Pentax K100D, 28mm, ISO200 f:8 1/60s exposure
"The mammatus clouds were illuminated by the golden light of the setting sun," she explains. "I didn't dare adjust the images in Photoshop for fear of losing the magic color, which lasted no more than 15 minutes." More images: #1, #2, #3.
The mysterious lobes of mammatus clouds form on the undersides of thunderstorms when the storms are breaking up. Summer, the season of thunder, is the best time to catch them. The next time a storm passes, go outside and look for the mammatus.
EXTRA: What happens when a strong wind comes along to blow the mammatus away? On July 4th shortly after a thunderstorm in De Soto, Kansas, Doug Zubenel watched the wind stretch a bank of mammatus clouds into "erie, striated bands." He took this picture.
more images: from Jan Koeman of Kloetinge, the Netherlands; from Marc Tomko of Plantsville, Connecticut; from Harry Ball of Sidcup, Kent, England;
---