Where's Saturn? Is that a UFO--or the ISS? What's the name of that star? Get the answers from mySKY--a fun new astronomy helper from Meade.

GREAT PERSEIDS: The Perseid meteor shower is coming, and experts say it should be a great show. Get the full story from Science@NASA.

WINDOW SEAT: On July 11th, Doc Searls was taking a redeye flight from San Francisco to London when a solar wind stream hit Earth. High over northern Minnesota, he says, "I looked out the window and got the treat that I seek every day in SpaceWeather but tend to miss because I live in Santa Barbara." In short, the aurora borealis: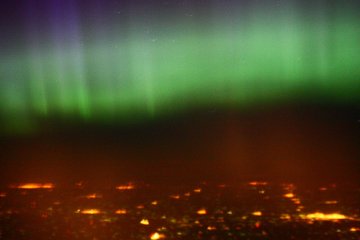 "The auroras seemed to be only yards away. I got out my Canon 30D and shot away, making liberal use of the dark blanket supplied by United Airlines. The plane, for what it's worth, was a Boeing 777 and my seat was 14a near the front of the wing."
Another solar wind stream is due July 14th. Air travelers, take your cameras and remember this: Seat 14a.
July 2007 Aurora Gallery
[Aurora Alerts] [Night-Sky Cameras]
NOCTILUCENT CLOUDS: The past few nights have produced some of the year's most intense noctilucent clouds over Europe. "In thirty years of observing NLCs, I have never seen such odd structures," reports John C McConnell of Maghaberry, Northern Ireland. "It was beautiful!" [photo]
At the Lidemark Observatory in Koege, Denmark, "we were drift-aligning our new LX200, when it started," says Frank R. Larsen who snapped this picture at daybreak on July 10th: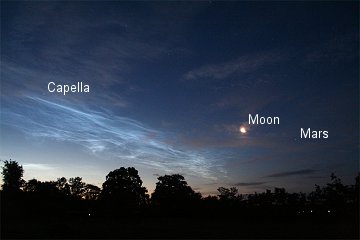 Photo details: Canon EOS 350D, EFS 18-55mm. ISO 1600, 1-2 sec exposures.
"The Moon was up and Mars was rising in the East," he says. "Beautiful electric-blue waves, the Moon and Mars and a few stars combined for an awesome view."
Lately, noctilucent clouds have been creeping south with displays over the continental USA on June 19th and July 3rd. Wherever you live, keep an eye on the western sky one to two hours after sunset. If you see electric-blue tendrils spreading up from the horizon, you've probably spotted an NLC.
2007 Noctilucent Cloud Gallery
[What are NLCs?] ["Noctilucent Cloud"--the song]
---
BONUS PHOTOS--Comet Linear VZ13: from Dalibor Hanžl of Brno, Czech Republic; from Paolo Candy of the Cimini Astronomical Observatory, Soriano, Italy; from Günther Strauch of Borken, NRW, Germany; from Vincent Jacques of Breil, France; from Stanescu Octavian of Silagiu, Romania; from Doug Zubenel of De Soto, Kansas.