Would you like a phone call when geomagnetic storms erupt? Sign up for Spaceweather PHONE.
SUDDEN QUIET: After three days of intense storming last week, sunspot 930 has suddenly gone quiet. The sunspot's magnetic field has settled into a stable configuration and--for now--poses little threat for strong solar flares.
LIFTOFF! Space Shuttle Discovery and its crew of seven lifted off from the Kennedy Space Center last night at 8:47 pm EST. It was a spectacular after-dark launch, as shown in these images from photographer Mike Theiss: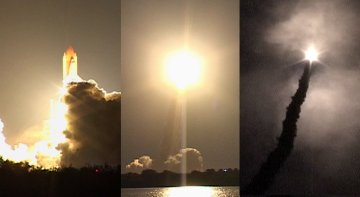 Expand: #1, #2, #3. Credit: M. Theiss, UltimateChase.com
Turn up the volume. Theiss also recorded the sound of the shuttle's engines: listen. "The crackling sound you hear is not a distortion. The launch really did sound like that," he says. "It was awesome."
The astronauts are now en route to the International Space Station. Their mission: to re-wire the station. Changes are needed to take full advantage of two solar arrays installed in September. When they're done, there will be more power to the ISS.
SOLAR TSUNAMI: When sunspot 930 exploded on Dec. 6th, producing an X6-category flare, it also created a tsunami-like shock wave that rolled across the face of the sun, wiping out filaments and other structures in its path. An H-alpha telescope in New Mexico operated by the National Solar Observatory (NSO) recorded the action: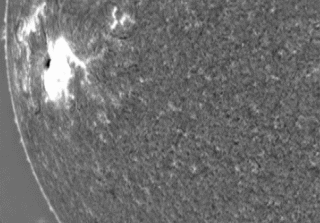 Credit: NSO/Optical Solar Patrol Network telescope
"These large scale blast waves occur infrequently, however, are very powerful," says Dr. K. S. Balasubramaniam of the National Solar Observatory. "They quickly propagate in a matter of minutes covering the whole sun and apparently sweeping away filamentary material." Researchers are unsure whether the filaments were blown off or were compressed so they were temporarily invisible. Get the full story from the NSO.