| | | |
| --- | --- | --- |
| SATELLITE FLYBYS APP: Turn your iPhone or iPod into a field-tested satellite tracker! Spaceweather.com presents the Satellite Flybys app. | | |
SDO LAUNCH DELAYED: The cheers of the crowd were cut short today when the liftoff of Solar Dynamics Observatory (SDO) was scrubbed only one second into the final countdown. The cause was high winds. NASA plans to try again tomorrow (Feb. 11th at 10:22 am EST) to launch a mission that is expected to upend our understanding of the sun and space weather. [launch blog]
GEOMAGNETIC STORM WARNING: Over the past few days, active sunspot 1045 has hurled a series of minor coronal mass ejections (CMEs) toward Earth. These are not the kind of major CMEs that will spark auroras over, say, Florida, but they could spark some very nice lights around the Arctic Circle. (continued below)

Image credit: Harald Krefting of Skibottselva, Norway (Feb. 9. 2010)
High-latitude sky watchers should be alert for Northern Lights on Feb. 10th and 11th when the CMEs are expected to arrive. NOAA forecasters estimate a 30% chance of some geomagnetic activity and as much as a 5% chance of a major geomagnetic storm over the next 48 hours.
UPDATED: February Northern Lights Gallery
[previous Februarys: 2009, 2008, 2007, 2006, 2004, 2003, 2002]
SUNSPOT, SUBSIDING? Behemoth sunspot 1045 is beginning to fade, but it still has a tangled "delta-class" magnetic field that harbors energy for strong eruptions. Indeed, when amateur astronomer Paul Haese looked at it on Feb. 9th, he found it seething with hot plasma and magnetic filaments. This negative-image blink comparison highlights the action: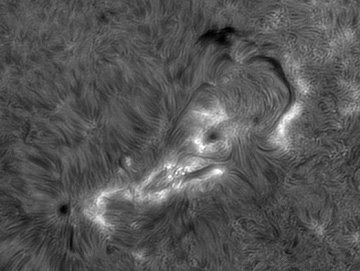 "This is an awesome sunspot with plenty of activity," says Haese, who took the original black and white photo using a Coronado SolarMax60. The magnetic loops and arcs he recorded are unstable and could erupt at any time. NOAA forecasters estimate a 50% chance of M-class solar flares in the next 24 hours.
more images: from Pete Lawrence of Selsey, West Sussex, UK; from James Kevin Ty of Manila, the Philippines; from Peter Paice of Belfast, Northern Ireland; from Roman Vanur of Nitra, Slovakia; from Stephen Ramsden of Atlanta, GA; from Bill Bradley of West Hempstead, New York; from Stephen Yeathermon of Santa Fe, Texas; from D. Tocher, M. Jennings, J. Stetson of South Portland, Maine; from Ehsan Rostamizadeh of Kerman, Iran; from John C McConnell of Maghaberry Northern Ireland; from Monty Leventhal OAM of Sydney Australia