| | | |
| --- | --- | --- |
| SATELLITE FLYBYS APP: Turn your iPhone or iPod into a field-tested satellite tracker! Spaceweather.com presents the Satellite Flybys app. | | |
SDO DESTROYS A SUNDOG: The Solar Dynamics Observatory (SDO) lifted off from Kennedy Space Center this morning at 10:23 am EST, kicking off a 5-year mission to study the variability of the sun. Moments after liftoff, SDO did something that astonished and delighted observers. It flew right through a bright, rainbow-colored sundog and destroyed it. Click on the image to launch a 10 MB Quicktime video recorded by13-year-old Anna Herbst of Bishop, California: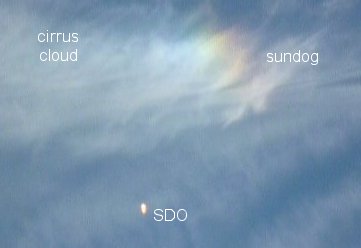 Sundogs are formed by ice crystals floating in cirrus clouds. "When SDO's Atlas V rocket penetrated the cirrus, shock waves went rippling through the cloud and destroyed the alignment of the ice crystals," says atmospheric optics expert Les Cowley. "This extinguished the sundog."
Play the movie again and this time turn up the volume to hear the reaction of the crowd when the waves hit the sundog. "I've never seen anything like it," said Anna's friend and traveling companion Amelia Phillips. "It was amazing!"
This was an auspicious beginning indeed for a mission designed amaze. Once it reaches its final orbit, SDO will make IMAX-quality movies of solar explosions and peer beneath the stellar surface to see the sun's inner magnetic dynamo. No one has ever seen anything like that either. Stay tuned for updates.
SUNSPOT WATCH: Sunspot 1045 is fading away, but sunspot 1046 is rapidly growing to take its place as behemoth du jour. This 2-day movie from the Solar and Heliospheric Observatory (SOHO) shows the see-saw action: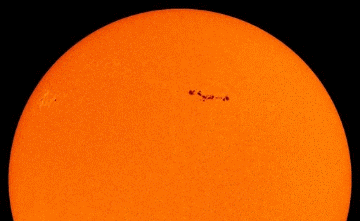 Both sunspots pose a threat for isolated M-class solar flares. According to NOAA, the total probability of such an eruption in the next 24 hours is 30%. The chief effect of M-flares on Earth is to ionize our planet's upper atmosphere. This can alter the normal propagation of radio signals, boosting some frequencies while suppressing others. Radio listeners should be alert for blackouts and sudden ionospheric disturbances (SIDs).
recent SIDs: from Roberto Battaiola of Pantigliate, Milan, Italy; from Rob Stammes of Lofoten, Norway.
---
February Northern Lights Gallery
[previous Februarys: 2009, 2008, 2007, 2006, 2004, 2003, 2002]