| | | |
| --- | --- | --- |
| SATELLITE FLYBYS APP: Turn your iPhone or iPod into a field-tested satellite tracker! Spaceweather.com presents the Satellite Flybys app. | | |
OLD TEACHINGS, BEWARE: The Solar Dynamics Observatory (SDO) is set to launch from the Kennedy Space Center on Feb. 10th at 10:30 am EST. Researchers expect SDO to rewrite the textbooks on solar physics using a battery of advanced cameras, telescopes, and magnetic sensors--some of which can even peer beneath the sun's stormy surface. This is such a big event, the staff of spaceweather.com has traveled 3000 miles to witness the launch. Stay tuned for first-hand reports.
GEOMAGNETIC STORM WATCH: Over the past few days, active sunspot 1045 has hurled a series of coronal mass ejections (CMEs) toward Earth. These are not the kind of major CMEs that will spark auroras over, say, Florida, but they could spark some very nice lights around the Arctic Circle. (continued below)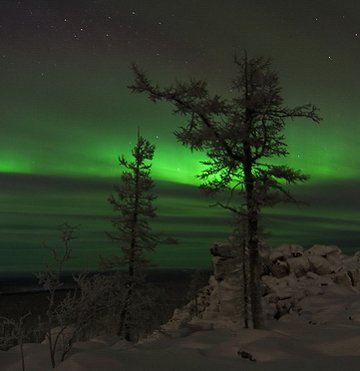 Image credit: Akhmetsafin Ruslan of Aykhal, Russia [details]
High-latitude sky watchers should be alert for Northern Lights on Feb. 9th through 11th when the CMEs are expected to arrive. NOAA forecasters estimate a 30% chance of some geomagnetic activity and as much as a 5% chance of a major geomagnetic storm over the next three days.
February Northern Lights Gallery
[previous Februarys: 2009, 2008, 2007, 2006, 2004, 2003, 2002]
WHERE IS THE SHUTTLE? Space shuttle Endeavour is in Earth orbit following one of the most spectacular launches in the program's 30-year history. Thousands of onlookers on the NASA Causeway clapped, gasped, shouted and cheered as the shuttle climbed brilliantly into the pre-dawn sky at 4:14 am EST on Monday, Feb. 8th. Photographer Gary Trapuzzano snapped this picture of Endeavour hurtling into a layer of clouds over the Kennedy Space Center: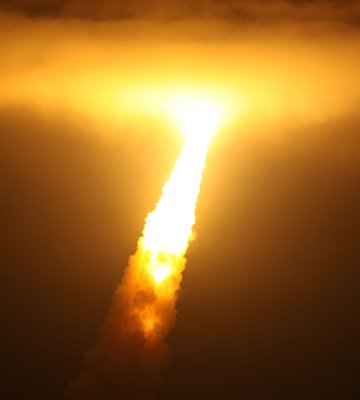 Photo details: Canon 50D, William Optics 66mm Triplet APO telescope
A split-second later, the shuttle emerged. "Watching this spectacular event through the camera is something I will never forget," says Trapuzzano.
Endeavour is now completely outside Earth's atmosphere chasing the International Space Station (ISS). NASA says the two spacecraft will dock on Wednesday, Feb. 10th, at 12:09 a.m. EST and, after that, spacewalkers will begin the task of installing the station's new Tranquility node--a.k.a. "a room with a view."
The ISS and Endeavour make a great combo in the night sky. Check the Simple Satellite Tracker to see if you are favored with a flyby. Flybys are also available for the iPhone!
more launch photos: from Malcolm Park at the Kennedy Space Center Causeway, Florida; from Alberto Quijao Vodniza at the Kennedy Space Center, Florida; from Adam Bojanowski of South Titusville, Florida; from Brent of Orlando, Florida; from Frank J. Cernik of Schenectady, New York; from Mark Staples at the Kennedy Space Center, Florida;