Would you like a phone call when geomagnetic storms erupt? Sign up for Spaceweather PHONE.
AURORA WATCH: There is still a chance that an incoming CME will hit Earth today, sparking a geomagnetic storm, but with each passing hour of no impact, the chances increase that the CME has completely missed Earth. Time will tell. Northern sky watchers should remain alert for auroras.
DAWN PLANETS: A suggestion for Sunday morning: Wake up at dawn. Put on warm clothes. Go outside and look east: sky map. (continued below)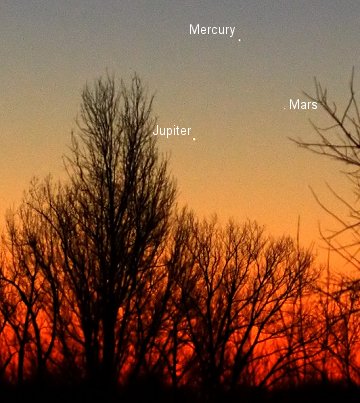 Planets converging on Dec. 9th. Credit: Tom J. Martinez.
There, amid the rosy glow of sunrise, you'll see Mercury and Jupiter so close together, you could hide them behind the tip of your pinky finger held at arm's length. (To be precise, they'll be 0.25o apart.) Look through binoculars and you'll see dim, red Mars, too. It's a rare three-planet conjunction--don't miss it!
more images: from Elizabeth Warner of Alexandria, Virginia; from John Chase near Boulder, Colorado; from Vincent Jacques near Menton, France; from Mark Wloch of Erie, Michigan; from Alan C Tough of Elgin, Scotland; from Patrick Malriat of Doylestown, Pennsylvania; from Chris Schur of Payson, Arizona; from Robert B Slobins of Talleyville, Delaware; from Stan Richard of Des Moine, Iowa; from John Nordlie of Fargo, North Dakota; from Phil Harrington of Brookhaven, NY; from Freek van der Hulst of the Netherlands; from Jun Lao of Deerfield Township, Ohio; from Wayne Suns of Tulsa, Oklahoma; from John McClintock of Johnsville, Ohio; from Richard Bell of Richland, Michigan.
SOLAR TSUNAMI: When sunspot 930 exploded on Dec. 6th, producing an X6-category flare, it also created a tsunami-like shock wave that rolled across the face of the sun, wiping out filaments and other structures in its path. An H-alpha telescope in New Mexico operated by the National Solar Observatory (NSO) recorded the action: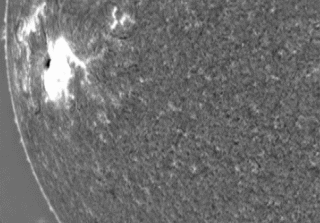 Credit: NSO/Optical Solar Patrol Network telescope
"These large scale blast waves occur infrequently, however, are very powerful," says Dr. K. S. Balasubramaniam of the National Solar Observatory. "They quickly propagate in a matter of minutes covering the whole sun and apparently sweeping away filamentary material." Researchers are unsure whether the filaments were blown off or were compressed so they were temporarily invisible. Get the full story from the NSO.
more images: from Gary Palmer of Los Angeles, California; from Eric Roel of Valle de Bravo, Mexico; from Katy and John Stetson of Falmouth, Maine; from Greg Piepol of Rockville, Maryland; from Robert Morlan of La Porte, Indiana; from Paul Haese of Adelaide, Australia.