Would you like a phone call when geomagnetic storms erupt? Sign up for Spaceweather PHONE.
PLANETARY TRIANGLE: Set your alarm. Early tomorrow morning, Dec. 9th, Jupiter, Mercury and Mars will gather together in a tiny triangle about 1o wide. Look for them low in the eastern sky beaming through the rosy glow of dawn. The view through binoculars should be especially fine: all three planets will fit simultaneously in the field of view. [sky map]
SOLAR TSUNAMI: When sunspot 930 exploded on Dec. 6th, producing an X6-category flare, it also created a tsunami-like shock wave that rolled across the face of the sun, wiping out filaments and other structures in its path. An H-alpha telescope in New Mexico operated by the National Solar Observatory (NSO) recorded the action: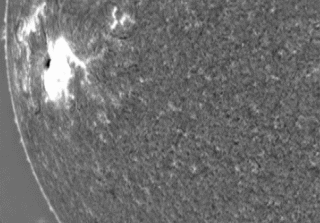 Credit: NSO/Optical Solar Patrol Network telescope
"These large scale blast waves occur infrequently, however, are very powerful," says Dr. K. S. Balasubramaniam of the National Solar Observatory. "They quickly propagate in a matter of minutes covering the whole sun and apparently sweeping away filamentary material." Researchers are unsure whether the filaments were blown off or were compressed so they were temporarily invisible. Get the full story from the NSO.
AURORA WATCH: Sky watchers, be alert for auroras. A coronal mass ejection (CME) is expected to brush past Earth tonight, sparking a mild geomagnetic storm. The display will probably favor high latitudes--e.g., Scandinavia, Canada and Alaska--but it could descend as well to northern-tier US states such as Michigan, Minnesota and Wisconsin. (continued below)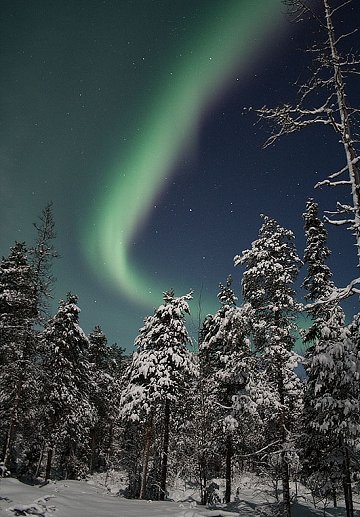 Auroras over Finland on Dec. 8th. Credit: Vesa Särkelä
The source of the CME is sunspot 930, which has been exploding regularly since it first appeared on Dec. 5th. The sunspot is slowly turning to face Earth. As it does, it might send more CMEs our way, and they would hit head-on rather than merely brushing past. By next week, Northern Lights could reach deep into the United States. Stay tuned. (And keep your fingers crossed.)