Where's Saturn? Is that a UFO--or the ISS? What's the name of that star? Get the answers from mySKY--a fun new astronomy helper from Meade. .

SOLAR FILAMENT: A dark magnetic filament is approaching the western horizon of the sun where it could turn into a beautifully glowing prominence this weekend. If you have a solar telescope, keep an eye on the limb: image.

AURORAS BOREALIS: A solar wind stream hit Earth last night sparking bright auroras over Scandinavia. Mats Holmstrom sends this photo from Kiruna, Sweden (latitude 67o N):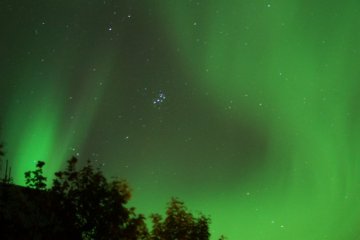 "These are the first auroras of the season--at least for me," he says. The geomagnetic disturbance is subsiding now. The chances for more auroras tonight are low.
September 2007 Aurora Gallery
[August 2007 Aurora Gallery] [Night-sky Cameras]
COLORS OF THE VIRGA: "Virga is rain that falls from a cloud, but never lands [because it evaporates before it hits the ground]," says physics professor Wayne Wooten. "It is probably more common than most of us realize, but never have I seen it so dramatically lit as at 7:04 PM last evening in Pensacola, Florida." He grabbed his camera and snapped this picture: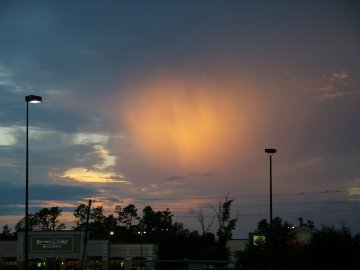 "A break in the clouds toward sunset let a thin shaft of orange light reach the falling shower just as the cloud above it was evaporating," he explains. "The beautiful effect was gone in only a minute, as a cloud blocked the sun's last rays, and the shower evaporated back up into the atmosphere."
"Live every minute as if the next will bring something wonderful."
MORE: "Just this morning, as I was coming to work in Lexington, Kentucky, I saw a beautiful display of the same thing minutes before sunrise--virga beautifully backlit by the rising sun," reports Mike Lynch of Fayette County, Kentucky. He took this picture using his Pentax *ist digital camera.
AND MORE: "The days are now short enough to see the sun set," says Wes Lutes of of Wasilla, Alaska. "Yesterday, I went outside after a long day at work and saw the light of sunset reflecting off of a nice patch of virga: photo."