Where's Saturn? Is that a UFO--or the ISS? What's the name of that star? Get the answers from mySKY--a fun new astronomy helper from Meade. .

NEAR MISS: Yesterday, Sept. 5th around 0100 UT, tiny asteroid 2007 RS1 flew past Earth only 48,000 miles (0.2 lunar distances) away. There was never any danger from this near miss. Even if the 3-meter wide space rock had hit Earth, it would have disintegrated in the atmosphere, causing little to no damage at ground level. It would, however, make a very nice fireball. Maybe next time.

CORONAL HOLE: On Sept. 4th, an X-ray telescope onboard Japan's Hinode spacecraft photographed a dark gash on the sun: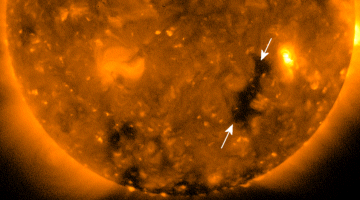 This is a coronal hole. Coronal holes are places where the sun's magnetic field opens up and allows solar wind to escape. It is, in a sense, a genuine hole in the sun's upper atmosphere. A solar wind stream flowing from this particular hole should reach Earth later today.
Sky watchers from Scandinavia to Alaska, please be alert for auroras.
MORNING STAR: "Appearing as a spectacular brilliant white diamond set against the cobalt blue twilight, Venus is making its grand return as the morning star!" reports photographer Chris Schur who took this picture at daybreak in Payson, Arizona: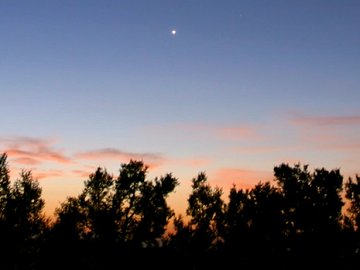 Photo details: Canon 10D, 17mm lens, 30 seconds.
If you're up at dawn, examine Venus through a small telescope. Like the Moon, Venus has phases and at the moment it is a delightful little crescent. Saturday morning is a great time to look, because the crescent Moon will be gliding by crescent Venus, forming a beautiful ensemble: sky map.
more images: from Riccardo Di Nasso of Pisa, Tuscany (Italy); from Martin Mc Kenna of Maghera, Co. Derry, N. Ireland.