Where's Saturn? Is that a UFO--or the ISS? What's the name of that star? Get the answers from mySKY--a fun new astronomy helper from Meade. .

COSMIC COCKROACHES: A tough, pesky molecule possibly key to the origins of life on Earth has been spotted in deep space surviving the ferocious blastwave of a supernova explosion. Get the full story from Science@NASA.

LUNAR TRANSIT: "I woke up early this morning and packed my gear to record a passage of International Space Station in front of the Moon in the daytime sky," says Alan Friedman of Buffalo, New York. "The window of opportunity was only 1.2 seconds, but I got it!" (continued below)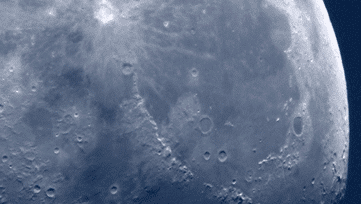 Click to view a larger movie
"Unfortunately I chose a shutter speed too slow to freeze the motion of the Space Station - it appears as a streaking blur across the Moon - but hey, that's why they call us amateurs!" continues Friedman. "The sunlit ISS appears brighter than the Moon, which quivers in the unsteady atmosphere at 24o above the western horizon. Its path runs through the flooded craters Archimedes and Plato; the brilliant crater at the top is Copernicus."
"Clear skies and happy Labor Day!"
METEOR OUTBURST: Sept. 1, 2007--It was just before dawn and awfully cold in Independence Pass near Aspen, Colorado. Photographer Thomas O'Brien couldn't help falling asleep. Fortunately, his camera kept shooting, recording a beautiful Saturday morning outburst of Aurigid meteors: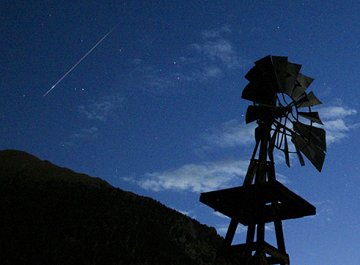 "I never saw one myself," he says. Nevertheless, for about 30 minutes around 4:30 PDT (1130 UT) the sky was filled with colorful meteors and fireballs. Sightings have been reported in Arkansas, Arizona, Colorado, California, Idaho, Indiana, Kansas, New Mexico, Ohio, Oregon, Texas and western Canada. Meteor radio echoes were heard as far away as the United Kingdom!
The source of the outburst was ancient Comet Kiess (C/1911 N1), which ~2000 years ago laid down a stream of rocky, dusty debris near Earth's orbit. Earth crossed the stream on Sept. 1st producing the brief but beautiful flurry. (These meteors are called "Aurigids" because they shot out of the constellation Auriga.) Astronomers generally agreed that Earth would cross the stream on Saturday morning, but few expected a major shower. Such an old stream was probably too empty. But Peter Jenniskens of the SETI Institute and colleagues boldly predicted a good display, and they were right.
Aurigid Photo Gallery
Updated Sept. 2, 2007