Where's Saturn? Is that a UFO--or the ISS? What's the name of that star? Get the answers from mySKY--a fun new astronomy helper from Meade. .

COSMIC COCKROACHES: A tough, pesky molecule possibly key to the origins of life on Earth has been spotted in deep space surviving the ferocious blastwave of a supernova explosion. Get the full story from Science@NASA.

METEOR OUTBURST: "What an adventure!" says astrophotographer George Varros who spent last Saturday morning flying 45,000 ft above the California Coast during the Aurigid meteor outburst. "Here is a rough composite of four bright meteors imaged in less than 5 minutes through the window of the airplane." Click to view a 2.7 megabyte movie: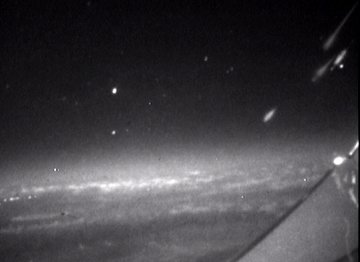 "Note the reflection of the meteors along the airplane wing's leading edge," he points out. "Each one was brighter than 0th magnitude."
Varros took the pictures from the Aurigid MAC aircraft, a flight organized by Peter Jenniskens of the SETI Institute to study these rare meteors from ancient Comet Kiess. Onboard were 14 scientists armed with image-intensified cameras and spectrometers: preliminary results. "A good time was had by all," says Varros.
The Sept. 1st outburst was "a wonderful confirmation of the meteor stream model developed by Jeremy Vaubaullion and Peter Jenniskens," he adds. "I asked Jeremy before the event if he was confident in his predictions--and he absolutely was. Awesome! Congratulations!"
The outburst was also witnessed by a great number of people on the ground. Browse the gallery, below, for more sights and sounds.
Aurigid Photo Gallery
[Interactive map of Aurigid sightings] [Meteor Alerts]
PERFECT SKY: On Sept. 1st, a solar wind stream hit Earth sparking bright auroras from Scandinavia to Alaska: map. In Quebec, Canada, Sylvain Serre turned his Canon 30D to the sky and recorded this fantastic scene: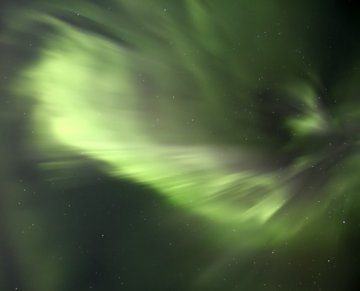 Photo details: Canon EOS 30D, 15 sec, 4.0 exp., ISO 1600
Serre calls this "a perfect sky," and who could argue? The storm has subsided but it could flare up again on Sept 6th or 7th when another solar wind stream is due to rattle Earth's magnetic field. High-latitude sky watchers should be alert for auroras: gallery.