Where's Saturn? Is that a UFO--or the ISS? What's the name of that star? Get the answers from mySKY--a fun new astronomy helper from Meade. .

PROMINENCE ALERT: A flame-shaped solar prominence has popped up from the sun's western horizon. It's four times taller than Earth and a pleasing sight through backyard solar telescopes. Take a look! images: from Rogerio Marcon of Campinas, Brazil; from C. Miller and J. Stetson of South Portland, Maine; from Cai-Uso Wohler of Bispingen, Germany; from Robert Arnold on the Isle of Skye, Scotland; from Pavol Rapavy of Rimavska Sobota, Slovakia;

AURORAS! A solar wind stream hit Earth on Sept. 1st sparking a geomagnetic storm and bright auroras from Scandinavia to Alaska: map. In Fairbanks, Patrick Cobb was readying his camera for the Aurigid meteor shower when a riot of blue-green Northern Lights spread across the sky: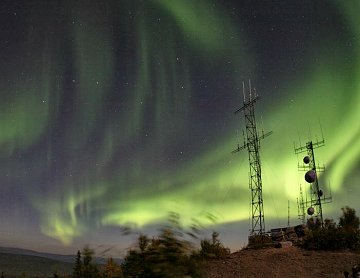 Photo details: Canon 30D, 15mm, ISO 400, f/8, 30 sec
The storm that caused these lights ranked 5 on the 0 to 9 K-index scale of geomagnetic activity. The display has subsided, but it could flare up again tonight. Earth remains inside the solar wind stream, so sky watchers should be alert for auroras: gallery.
METEOR FLURRY: Congratulations to Peter Jenniskens of the SETI Institute and colleagues who predicted Saturday morning's Aurigid meteor shower. It materialized right on time on Sept. 1st in a sharp peak shortly before 1130 UT or 4:30 am PDT. In Guffey, Colorado, Chris Peterson recorded this spectacular fireball: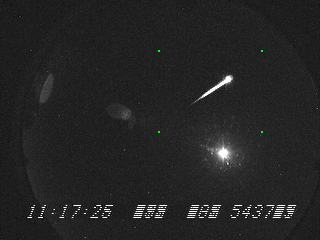 The glaring light beneath the meteor is the Moon, which shows just how bright the Aurigid was.
Positive reports of meteor activity have been received from observers in Arkansas, Arizona, Colorado, California, Idaho, Ohio, Oregon, Texas and western Canada. In Alberta, Alan Dyer snapped this picture of an Aurigid at sunrise. "It left a train that persisted for about a minute as it dispersed in the high-altitude winds," he says.
Aurigid Photo Gallery
Updated Sept. 2, 2007
LISTEN! In New Mexico, amateur radio astronomer Thomas Ashcraft operates an 83 MHz forward scatter meteor radar. His system records echos of distant radio stations from the hot trails of disintegrating meteoroids; "I have merged my forward scatter array with an all-sky camera and am now capturing fireballs with sound," says Ashcraft. So, turn up the volume and click here to experience an Aurigid fireball recorded just before daybreak on Sept. 1st.