Where's Saturn? Is that a UFO--or the ISS? What's the name of that star? Get the answers from mySKY--a fun new astronomy helper from Meade. .

AURORA WATCH: Sky watchers at high latitudes should be alert for auroras tonight. Earth is entering a solar wind stream and the encounter could spark mild geomagnetic storms.

METEOR FLURRY: Congratulations to Peter Jenniskens of the SETI Institute and colleagues who predicted this morning's Aurigid meteor shower. It materialized right on time in a sharp peak shortly before 1130 UT or 4:30 am PDT. In Guffey, Colorado, Chris Peterson video-recorded a spectacular fireball: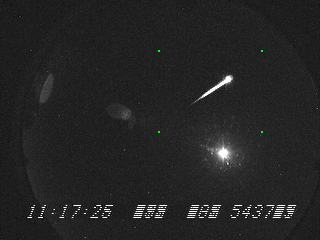 The glaring light beneath the meteor is the Moon, which shows just how bright this Aurigid was.
Positive reports of meteor activity have been received from observers in Arkansas, Arizona, Colorado, California, Ohio, Oregon, Texas and western Canada. In southern Alberta, Alan Dyer snapped this picture of a fabulous Aurigid just before sunrise. " This one left a train that persisted for about a minute as it dispersed in the high-altitude winds," he says. Stay tuned for more photos and reports.
Aurigid Photo Gallery
[Interactive Map of Aurigid Sightings]
LISTEN! In New Mexico, amateur radio astronomer Thomas Ashcraft operates an 83 MHz forward scatter meteor radar. His system records echos of distant radio stations from the hot trails of disintegrating meteoroids; "I have merged my forward scatter array with an all-sky camera and am now capturing fireballs with sound," says Ashcraft. So, turn up the volume and click here to see and hear an Aurigid fireball recorded just before daybreak on Sept. 1st.

OVER THE HORIZON: Yesterday in Mexico, Julia Canizalez was observing the sun from the University of Sonora's Carl Sagan Solar Observatory when, suddenly, the western limb of the sun erupted: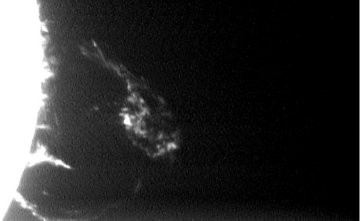 The cloud she photographed was hurled upward from a point over the sun's horizon; the blast site was thus hidden. Or was it? For the first time in history, we can see over the horizon. NASA's STEREO-A spacecraft is orbiting the sun about 45 million km ahead of Earth allowing it to peek 16o of longitude farther west. Here is what Stereo-A saw. The eruption began as a vast, curtain-shaped magnetic instability which rippled and surged and hurled a cloud high enough to be seen from Mexico. Later, the SOHO spacecraft observed a CME slowly billowing away from the sun.
The STEREO mission is just beginning, but already it is giving us a new perspective on the sun. Out of sight? No, it's just over the horizon.
---
Lunar Eclipse Photo Gallery
[Night-sky Cameras] [Interactive Eclipse Map]