ISS TOOLBAG TO DECAY: The ISS Toolbag is about to become a fireball. Astronaut Heidemarie Stefanyshyn-Piper dropped the backpack-sized kit on Nov. 18, 2008, while she was working outside the International Space Station. Eight months later, the toolbag is reentering Earth's atmosphere. updated: Best estimates suggest a fireball over the Pacific Ocean west of Mexico (12.7° N, 257.1° E) at around 1316 UT on August 3rd. Check the Simple Satellite Tracker for last-chance flybys.
3D DEBRIS ON JUPITER: A dark cloud of debris from the July 19th impact on Jupiter continues to be visible through backyard telescopes. Now, for the first time, you can see it in 3D. Cross your eyes and behold:

Click to view a larger version
Astrophotographer "Wah!" made the stereo pair using an 8-inch telescope in Hong Kong. He took two pictures of Jupiter four minutes apart, allowing the planet's rotation to provide the necessary right- and left-eye views. If you have trouble seeing the 3D effect, try staring at this larger version.
In 3D, the impact mark seems to be a hole in the clouds. In fact, it is a cloud, filled with dark cindery bits of a mystery-impactor that exploded like 2000 megatons of TNT. High altitude winds are spreading the debris around the south pole, enlarging the dark mark for easy viewing.
Amateur astronomers can monitor the cloud near Jupiter's System II longitude 210°. For the predicted times when it will cross the planet's central meridian, add 2 hours and 6 minutes to Sky and Telescope's predicted transit times for Jupiter's Great Red Spot. [sky map]
more images: from Raffaello Lena of Rome, Italy; from Anthony Wesley of Australia; from Glenn Jolly of Gilbert, Arizona; from David Kolb of Lawrence, Kansas; from Joel Warren of Amarillo, Texas; from George Tarsoudis of Alexandroupolis - Evros, Greece; from Michael Rosolina of Friars Hill, West Virginia;
LONELY PROMINENCE: Yesterday, Alan Friedman of Buffalo, New York, looked through his solar telescope and actually felt sorry for the sun. "Seeing this solitary prominence, I imagined the sun experiencing a twinge of melancholia ... or perhaps it's my reaction to the seemingly endless solar minimum."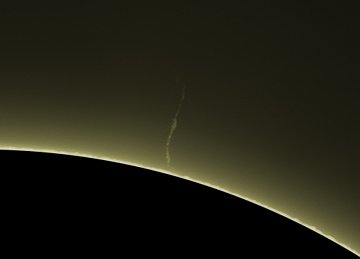 When Friedman took the picture on August 1st, the sun had just entered its 22nd consecutive day of spotlessness--no sunspots for more than three weeks! This is typical of 2009. So far this year, the sun has been blank 77% of the time, confirming the solar minimum of 2008-2009 as a century-class event.
But endless? No. Solar jet streams are beginning to stimulate new-cycle sunspot production--e.g., sunspot 1024 in early July. NOAA forecasters expect solar activity to intensify in late 2009-early 2010 leading to a new solar maximum in 2012-2013. If they're correct, soon, the lonely prominence will be a thing of the past.
---
2009 Noctilucent Photo Gallery
[previous years: 2008, 2007, 2006, 2005, 2004, 2003]
---
July 2009 Aurora Gallery
[previous Julys: 2008, 2007, 2006, 2005, 2004, 2003]
---
July 22nd Eclipse Gallery
[previous eclipses: Jan 26, 2009; Aug. 1, 2008; Mar. 19, 2007]
---