BLANK SUN: The stock market is showing signs of life. The sun is a different story. July ended with 21 straight days of blank suns. So far this year, the sun has been spotless 77% of the time, confirming the solar minimum of 2008-2009 as a century-class event. Forecasters say the next solar maximum is due in 2012-13.
TOP SECRET: The US National Reconnaisance Office won't confirm that it exists, but last night in Switzerland, astrophotographer Olivier Staiger saw it with his own eyes--the Lacrosse 3 spy satellite: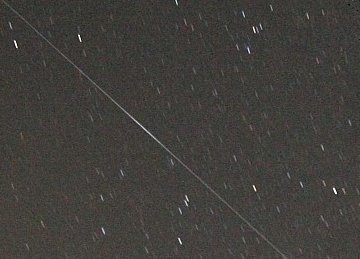 "As I saw the satellite fly across the sky," says Staiger, "I clearly got the impression that it became quite bright, that it flared, akin to an Iridium flare, so I was curious to see if the flare would show on the photo--and yes it does."
The flare was probably sunlight glinting from the satellite's solar panels, rumored to span 45 meters from tip to tip. The solar arrays are thought to power a synthetic aperture radar, which can image Earth's surface with meter-resolution even through clouds. Some web sites claim that the radar can also sense objects underground, but that's just speculation.
You can see this top-secret satellite for yourself--and maybe catch a flare as it soars overhead. Check the Simple Satellite Tracker for flyby times.
JUPITER'S DEBRIS CLOUD: It's getting bigger. Polar winds are spreading debris from the July 19th impact that created a cindery cloud in Jupiter's upper atmosphere. "The debris cloud has enlarged and faded somewhat. It now appears as a backward letter L near Jupiter's south pole," reports Mike Hood who sends this picture from his backyard observatory in Kathleen, Georgia: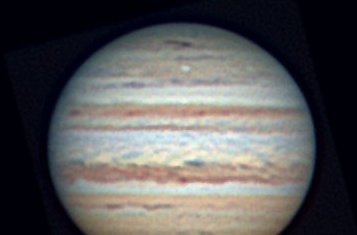 When Comet Shoemaker-Levy 9 hit Jupiter in 1994, debris clouds of similar size remained visible for weeks. In this case, however, no one knows exactly what hit Jupiter. Was it a comet, like SL-9, or a rocky or metallic asteroid? The composition of the impactor will surely influence the make-up of the cloud and its evolution. What happens next is anyone's guess.
Amateur astronomers are encouraged to continue monitoring. The cloud is located near Jupiter's System II longitude 210°. For the predicted times when it will cross the planet's central meridian, add 2 hours and 6 minutes to Sky and Telescope's predicted transit times for Jupiter's Great Red Spot. [sky map]
more images: from Fabio Carvalho of São Carlos, São Paulo, Brazil; from Alvaro Vaquero of Corinth, Texas; from Brian Combs of Looking Glass Observatory, Buena Vista, Georgia; from Astroandy of Ho Chung, Sai Kung, Hong Kong SAR; from Parks Squyres of SaddleBrooke, Arizona; from Didier Favre of Brétigny-sur-Orge, France; from Sadegh Ghomizadeh of Tehran, Iran
---
2009 Noctilucent Photo Gallery
[previous years: 2008, 2007, 2006, 2005, 2004, 2003]
---
July 2009 Aurora Gallery
[previous Julys: 2008, 2007, 2006, 2005, 2004, 2003]
---
July 22nd Eclipse Gallery
[previous eclipses: Jan 26, 2009; Aug. 1, 2008; Mar. 19, 2007]
---