EXTRA MOON OF JUPITER: Seen through a backyard telescope, Jupiter usually has four bright moons. Tonight the number is five. Jupiter is having a close encounter with 6th-magnitude star 45 Cap, temporarily increasing the "moon count" by one. Observers in Europe, Africa, the Middle East and Brazil can watch Jupiter pass directly in front of 45 Cap. The eclipse occurs roughly from 22:53 Universal Time on August 3rd to 1:00 UT August 4th. [full story] [sky map]
SWIRLING DEBRIS ON JUPITER: The impact cloud on Jupiter continues to expand and evolve. On August 1st and 2nd, worldwide observers noted that it had transformed from a concentrated, cindery-black spot to an Earth-sized paling swirl. South is up in this image from Anthony Wesley of Murrumbateman, Australia: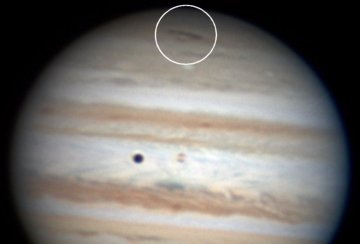 "Polar winds seem to be carrying the main body of the cloud westward (to the right in the photo)," Wesley says. "Also, a small stream of dark material is being pulled down and in the opposite direction--perhaps around a cyclone or some other localised weather feature?" (Bonus: The moon in the foreground casting its shadow on Jupiter's cloudtops is Io.)
Researchers are scrambling to study the cloud before it fully disperses. Light reflected from the debris may hold clues to the nature of the mystery-impactor. "If the cloud's spectra contain signs of water, that would suggest an icy comet. Otherwise, it's probably a rocky or metallic asteroid," says JPL planetary scientist Glenn Orton. Several teams of professional astronomers are working to obtain the data--stay tuned for updates.
Meanwhile, amateur astronomers can monitor the cloud as it shifts and swirls near Jupiter's System II longitude 210°. For the predicted times when it will cross the planet's central meridian, add 2 hours and 6 minutes to Sky and Telescope's predicted transit times for Jupiter's Great Red Spot. [sky map]
more images: from Raffaello Lena of Rome, Italy; from Glenn Jolly of Gilbert, Arizona, USA; from Wah! of Hong Kong; from William Rison of Newburg, Maryland; from Joel Warren of Amarillo, Texas; from David Kolb of Lawrence, Kansas; from Alphajuno of League City, Texas; from Mariano Ribas of Buenos Aires, Argentina; from Giancarlo Ubaldo Nappi of Belo Horizonte, Minas Gerais, Brazil
FAUX-VOLCANIC SUNSETS: Almost two full months after Russia's Sarychev volcano erupted, peppering the stratosphere with ash and sulfur dioxide, Doug Zubenel is still seeing volcanic sunsets over Kansas. Is he having a flashback? It certainly seems real: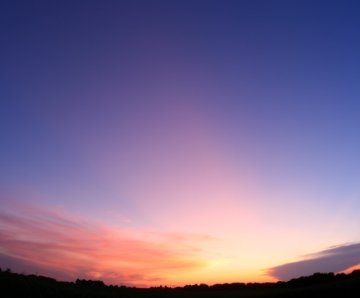 "I took this picture last night," says Zubenel. "The sky had the telltale lavendar color and ray structure characteristic of a volcanic sunset."
However, Sarychev may not be to blame. "A more likely cause for these colors is wildfires burning across the western US," points out Zubenel. There are 28 major fires in progress right now. Strong updrafts can pull the fires' fine, smokey aerosols into the lower stratosphere, where their effect on the sunset mimicks that of a volcano. As wildfire season unfolds--it is most intense during late summer and fall when ground vegetation dies and becomes kindling--these "faux-volcanic sunsets" could increase in frequency and intensity. Submit your images here.
---
2009 Noctilucent Photo Gallery
[previous years: 2008, 2007, 2006, 2005, 2004, 2003]
---
July 2009 Aurora Gallery
[previous Julys: 2008, 2007, 2006, 2005, 2004, 2003]
---
July 22nd Eclipse Gallery
[previous eclipses: Jan 26, 2009; Aug. 1, 2008; Mar. 19, 2007]
---