Where's Saturn? Is that a UFO--or the ISS? What's the name of that star? Get the answers from mySKY--a fun new astronomy helper from Meade.

AURORA WATCH: A high-speed solar wind stream is buffeting Earth's magnetic field, but it is doing little to stir up geomagnetic storms. The chance of auroras tonight is low.

SPACE STATION FLYBY: This week and next, the International Space Station will orbit over North America making many beautiful evening appearances over towns and cities from coast to coast. Guillaume Poulin took this picture of the ISS streaking over the Mont-Megantic Observatory in Quebec on August 1st: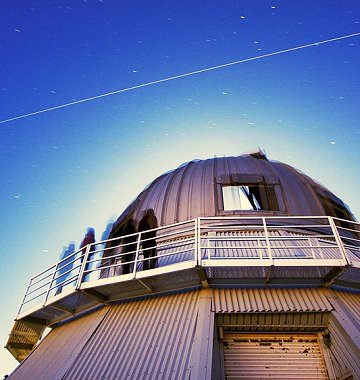 "The picture shows the observatory dome backlit by the nearly-full Moon, as well as astronomers who temporarily interrupted their work to witness the flyover," says Poulin who works at the ASTROlab du Mont-Mégantic.
Would you like to see the ISS with your own eyes? Subscribe to Spaceweather PHONE and we'll call you when the station is about to fly over your hometown, or check Heavens-Above for flyby timetables.
EXTRA MOON OF JUPITER: If you've ever looked at Jupiter through a telescope, you know what to expect: a giant planet surrounded by four moons. Two nights ago, amateur astronomer Günther Strauch of Borken, Germany, looked at Jupiter and saw not four moons but five: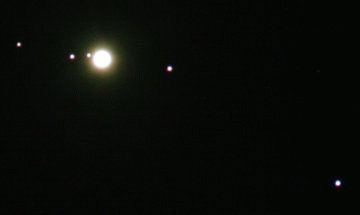 Photo details: Vixen refractor, Canon EOS 20D, 800 ASA, 10 seconds
The new moon is actually a star: "omega Ophiuchi," explains Strauch. It is a giant, 45 times more luminous than the Sun, dimmed to 4th magnitude by distance: 186 light years. This week Jupiter is passing by omega Ophiuchi, giving the impression of an extra moon. If you have a backyard telescope, take a look. Jupiter is easy to find shining brightly in the southern sky after sunset: sky map.
---
.2007 Noctilucent Cloud Gallery
[Night-Sky Cameras] ["Noctilucent Cloud"--the song]