Where's Saturn? Is that a UFO--or the ISS? What's the name of that star? Get the answers from mySKY--a fun new astronomy helper from Meade.

GREAT PERSEIDS: The Perseid meteor shower is coming, and experts say it should be a great show. Get the full story from Science@NASA.

MARS ROVER UPDATE: A severe dust storm on Mars, raging for the fourth consecutive week, is putting Spirit and Opportunity in jeopardy. Both rovers rely on stored solar power to keep critical systems warm during the cold martian night, but dust is blotting out the sun. The temperature of Opportunity's core has dropped to minus 37 Celsius, a near-critical level, according to NASA engineers.

There's no escaping the storm; it stretches all the way around the planet. From high orbit, Mars Odyssey has mapped out the atmospheric opacity: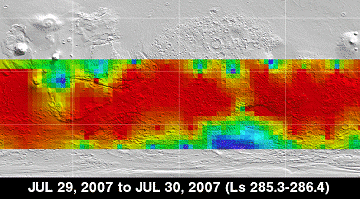 In the figure, blue denotes clear air while red is choked with dust. When will it end? No one knows. A similar storm in 2001 (long before Spirit and Opportunity arrived) persisted for more than three months. "We will continue to watch the situation and do all we can to assist our rovers in this ongoing battle against the elements," says rover project manager John Callas of JPL: full story.
SEQUOIA SUN HALO: "Most of the people around me were looking up at the Sequoias, but few seemed to notice this spectacular ring around the Sun!" says Mike Lukason who sends this photo from Sequoia National Park in California: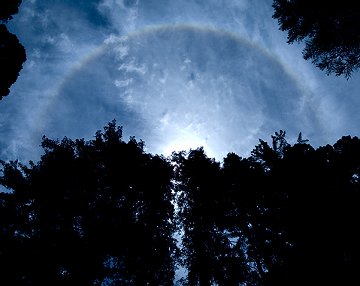 Photo details: Nikon D70s, 200 ISO, 18mm focal length
The luminous ring is a circumscribed sun halo, caused by pencil-shaped ice crystals in cirrus clouds. Although the noon temperature at the Park has hovered around 95 degrees F for more than a month, ice crystals are in abundance five miles above the treetops where the clouds are located. At that altitude, it is always freezing cold.
Icy sun halos can appear anytime, anywhere. Scan the sky around the sun. All you need is an object to block the central glare: a tall building, an outstretched hand, a lamp post--and, of course, Sequoiadendron giganteum works nicely, too.
more images: from Cindy Safina at the Tashilhunpo Temple in Tibet; from Will Gater of South Devon, England; from Martin Popek of Nýdek, Czech Republic; from Taj Dickinson of Wall Township, New Jersey; from John C McConnell of Maghaberry Northern Ireland.
---
.2007 Noctilucent Cloud Gallery
[Night-Sky Cameras] ["Noctilucent Cloud"--the song]