Where's Saturn? Is that a UFO--or the ISS? What's the name of that star? Get the answers from mySKY--a fun new astronomy helper from Meade.

DREAMY LUNAR ECLIPSE: Mark your calendar: On Tuesday, August 28th, there's going to be a dreamy, colorful, total eclipse of the Moon: full story.

BLANK SUN: The sun is almost blank today, and that makes it a good day to study, you guessed it, blank. This morning, Japanese scientists commanded the Hinode spacecraft to point its Solar Optical Telescope at an apparently empty patch, and this is what they saw:
The sun is not blank at all. It's covered with granules that give the surface a rough appearance. Granules are evidence of boiling on a titanic scale. The upper layers of the sun sit atop a 15-million degree nuclear furnace, and they boil much like a pan of water on a hot stove. Granules are akin to the rising and falling bubbles you see in a kitchen pan--just one difference: solar granules are as wide as Alaska. So much for the "blank sun."
RECTANGULAR PLANET: Jupiter is in a state of global upheaval. Cloud belts have been changing colors, cyclonic spots have been jumping cloud belts and reversing their spin. All this activity mesmerized French astronomer Guillaume Bertrand who recently spent four consecutive nights (July 24, 25, 26, 27) photographing Jupiter. He then spread out the images and stitched them into a full-planet map: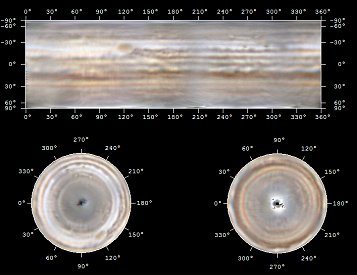 "This is how Jupiter looks through my 4.5 inch Newtonian telescope," says Bertrand. A labeled version of the map shows areas of intense activity. "There are currently two South Tropical Distubances (STrD), a South Equatorial Disturance (SED), and the South Equatorial Belt (SEB) is both fading and reviving at the same time."
Got a backyard telescope? Take a look. Jupiter is easy to find shining brightly in the southern sky after sunset: sky map.
BONUS: Wrap that rectangular map around a sphere, spin it, and what do you get? Click here.
---
.2007 Noctilucent Cloud Gallery
[Night-Sky Cameras] ["Noctilucent Cloud"--the song]