ENDEAVOUR HAS LANDED: Space shuttle Endeavour is back on Earth. The shuttle landed at Kennedy Space Center this morning at 10:49 EDT, completing a two week mission to the International Space Station. During their visit to the ISS, the crew installed the porch-like Japanese Exposed Facility. When science experiments need a dose of hard vacuum or radiation, astronauts can now set them "out on the porch" for exposure. The next shuttle launch is scheduled for Aug. 23rd.
CHANGES ON JUPITER: "On July 30th, it was evident that there is rapid evolution of Jupiter's impact debris cloud," reports amateur astronomer Raffaello Lena of Rome, Italy. "It is becoming very elongated." A polar projection shows the extent of the debris: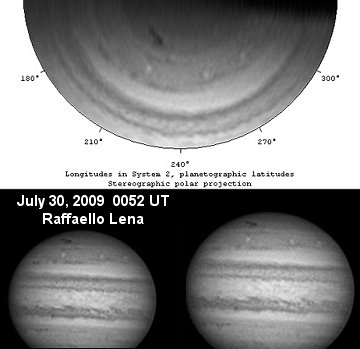 The changes are caused by turbulence and especially high-altitude winds in Jupiter's atmosphere. Polar winds blowing 25 m/s and faster could stretch the cloud all the way around Jupiter's south pole in the weeks ahead. Whether such a stretched-out cloud will be visible in small telescopes remains to be seen.
Amateur astronomers are encouraged to continue monitoring. The cloud is located near Jupiter's System II longitude 210°. For the predicted times when it will cross the planet's central meridian, add 2 hours and 6 minutes to Sky and Telescope's predicted transit times for Jupiter's Great Red Spot. [sky map]
more images: from Giovanni Coltro of Pesaro, Italy; from Romulo Liporaci of Maracaibo, Venezuela; from Sid Leach of Scottsdale, Arizona; from Tamas Ladanyi of Bakonykoppany, Hungary; from Efrain Morales Rivera of Aguadilla, Puerto Rico; from Andreas Murner of Lake Chiemsee, Bavaria, Germany; from John Chumack of Dayton, Ohio USA
NOCTILUCENT CLOUDS OVER MONGOLIA: When flying over Mongolia after dark, be sure to look out the window. You might see some noctilucent clouds: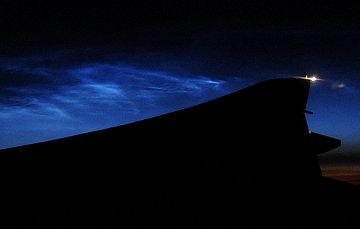 Photo details: Nikon D300, Nikkor 18-200 VR, 1/3s at ISO 1600
"I photographed these NLCs over central Mongolia on July 27th while flying onboard an Air France Boeing 777," reports photographer Radek Grochowski. "It was exciting to see them shining delicately electric-blue against almost black sky. The photo barely shows what you could see with your eyes."
Add Mongolia to the list of unaccustomed places NLCs have been sighted this year. Decades ago, noctilucent clouds were purely a high-latitude phenomenon, but recently they have descended from their arctic habitat to visit California, Nevada, Utah, Colorado, France, Turkey and now Mongolia. No one knows why the mysterious clouds are increasing their range, but they are, so check the gallery for observing tips:
2009 Noctilucent Photo Gallery
[previous years: 2008, 2007, 2006, 2005, 2004, 2003]
---
July 2009 Aurora Gallery
[previous Julys: 2008, 2007, 2006, 2005, 2004, 2003]
---
July 22nd Eclipse Gallery
[previous eclipses: Jan 26, 2009; Aug. 1, 2008; Mar. 19, 2007]
---