| | | |
| --- | --- | --- |
| MOTHER'S DAY: Give your mom a truly heavenly gift on May 11th--a subscription to Space Weather PHONE! | | |
ETA AQUARID METEORS: If you see a meteor flit across the sky tonight, it's probably a piece of Halley's Comet. Earth is crossing through a stream of dusty debris from Halley and this is causing the annual eta Aquarid meteor shower. Sky watchers in the tropics and southern hemisphere (where the shower is most intense) could see as many as 70 meteors per hour during the dark hours before dawn on Monday, May 5th, and Tuesday, May 6th. Sky maps: north, south.
MERCURY RISING: Lately, have you noticed a bright star hanging in the western sky at sunset? That's no star--it's Mercury. The innermost planet is emerging from the glare of the sun and putting on its best show of 2008. Here is the view on May 2nd from Tijeras, New Mexico: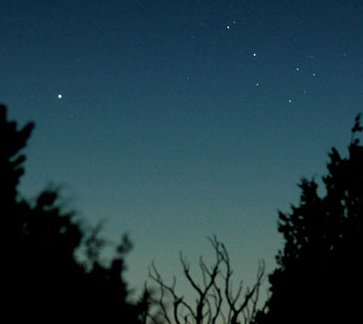 "I used a simple setup: a Nikon D70 with a 180mm lens at f/4 on a tripod for 2 seconds and....voila!" says photographer Becky Ramotowski. In her snapshot, Mercury is on the left and the Pleaides on the right.
Mercury will be visible every night for the next two weeks, but there is one night better than the others: May 6th when the crescent Moon glides by Mercury forming a beautiful and eye-catching duo. Mark your calendar and take a look: sky map.
more images: from Tamas Ladanyi of Lake Little-Balaton, Hungary; from Martin McKenna of Maghera, Co. Derry, N. Ireland; from Pete Lawrence of Selsey, West Sussex, UK; from Günther Strauch of Borken, NRW, Germany;
NEW CYCLE SUNSPOT: Slowly but surely, Solar Cycle 24 is coming to life. A double sunspot emerging today in the sun's southern hemisphere has the high latitude and magnetic polarity characteristic of a new-cycle spot. Amateur astronomer Joel Bavais sends this picture from Anvaing, Belgium: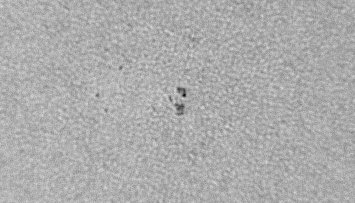 Photo details: 90 mm refractor, Astrosolar D3.8 filter
"What a pleasure to see some spots on our star again, even if they are not the most spectacular," says Bavais. "Actually," he notes, "they're not so small." Each of the dark cores is about the size of Earth.
The significance of this sunspot, however, is not its size or latent potential for solar storms. Strong solar flares and CMEs are extremely unlikely from this little "active region." Instead, it is a harbinger of great things to come, namely a stormy Solar Max due in 2011 or 2012 when Solar Cycle 24 peaks. The ascent is underway.
more images: from Gernot Lausen of Fleckeby, Schleswig- Holstein, Germany; from Greg Piepol of Rockville, Maryland; from Stephen Ames of Hodgenville, Kentucky; from Cai-Uso Wohler of Bispingen, Germany; from P-M Hedén of Vallentuna, Sweden; from Britta Suhre of Dortmund, Germany; from Carsten Arnholm of Heggedal, Norway; from Cannaerts Patricia of Belgium; from Erika Rix of Zanesville, Ohio;
---
April 2008 Aurora Gallery
[Aurora Alerts] [Night-sky Cameras]