| | | |
| --- | --- | --- |
| MOTHER'S DAY: Give your mom a truly heavenly gift on May 11th--a subscription to Space Weather PHONE! | | |
SOLAR ACTIVITY: "There are some interesting prominences on the sun today," reports Joel Bavais of Belgium who sends a two-hour animation of his favorite one. Readers, if you have a solar telescope, train it on the edge of the sun and catch the action.
ISS MOVIE: This morning when the International Space Station (ISS) flew over Japan, amateur astronomer Makoto Yamasaki was waiting with his 6-inch telescope and he made this movie through light clouds. "The ISS was clearly visible," says Yamasaki. A spaceship visible through clouds? The ISS is that bright. See for yourself.
MERCURY RISING: Lately, have you noticed a bright star hanging in the western sky at sunset? That's no star--it's Mercury. The innermost planet is emerging from the glare of the sun and putting on its best show of 2008. Here is the view on May 2nd from Tijeras, New Mexico: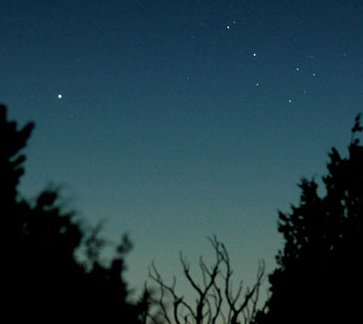 "I used a simple setup: a Nikon D70 with a 180mm lens at f/4 on a tripod for 2 seconds and....voila!" says photographer Becky Ramotowski. In her snapshot, Mercury is on the left and the Pleaides on the right.
Mercury will be visible every night for the next two weeks, but there is one night better than the others: May 6th when the crescent Moon glides by Mercury forming a beautiful eye-catching duo. Mark your calendar and take a look: sky map.
more images: from Pete Lawrence of Selsey, West Sussex, UK; from Günther Strauch of Borken, NRW, Germany
PHOTO-OP: Massive asteroid Iris is approaching the Sombrero Galaxy and on May 9th they will gather in the midnight sky just a fraction of a degree apart. Last night, German astrophotographer Martin Wagner photographed the pair converging: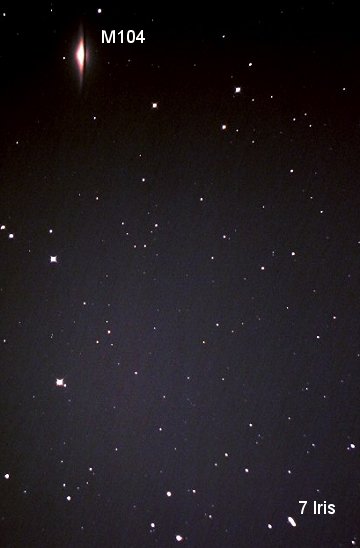 He used a 10-inch telescope and a Canon EOS 300D camera to photograph the 9th-magnitude ensemble. "I invite others to take extraordinary photos with better equipment than I have!" he says.
In the nights ahead, the asteroid will seem to barely miss the galaxy. In fact, they are separated by a staggering gulf. The Sombrero Galaxy is 30 million light years from Earth while asteroid Iris is only 16 light minutes away--a distance ratio of 1012 and a total difference of more than 1020 km. Suffice it to say there is no danger of a collision.
Astronomers, to view the encounter, set your goto telescope to "M104", the Messier catalogue number of the Sombrero Galaxy. Your target lies in the constellation Virgo, almost due south at midnight, Point, click, and submit your images.
more images: from Garrett Grainger of New Smyrna Beach, FL
---
April 2008 Aurora Gallery
[Aurora Alerts] [Night-sky Cameras]