| | | |
| --- | --- | --- |
| AURORA ALERTS: Did you miss the Northern Lights? Next time get a wake-up call from Space Weather PHONE | | |
MUST-SEE ASTEROID VIDEO: Astronomer and programmer Scott Manley, formerly of the Armagh Observatory in Northern Ireland, has created a movie showing 30 years of asteroid discoveries in only 3 minutes. Warning: Feelings of claustrophobia have been reported among some viewers. It's crowded out there! Click to play.
FOGBOW SEASON BEGINS: Northern autumn is just around the corner, which means the time for fogbows has arrived. Moisture rising from the sun-heated ground condenses in the cool night air, producing low-hanging fogs. When light from the morning sun or Moon hits the mist--voilà--a fogbow: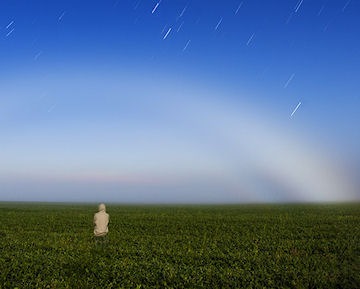 This is a lunar fogbow, photographed by Mike Hollingshead of Blair, Nebraska, just before dawn on August 25th. "I'm finding it rather fun to go lunar fogbow hunting," says Hollingshead. "It takes a pretty calm and cool night to get the fog, and the lunar phase needs to be around full so the Moon is big and low before sunrise. When everything comes together--wow! It's pretty cool to see vivid lunar fogbows arcing over fields in the darkness of night."
"Also seen on August 25th were steamdevils and deer swimming all the way across a lake!" he adds. "It pays to wake up early on cool fall mornings."
QUIET BLAST: Solar activity has been remarkably low for more than a week. On August 27th, the quiet was briefly interrupted by an eruption on the sun's western limb. NASA's Solar Dynamics Observatory recorded the action: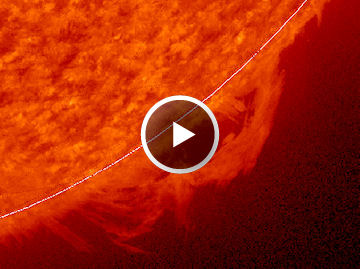 movie formats: 3 MB mpeg, 0.8 MB iPad, 0.8 MB iPhone
The eruption produced no strong burst of X-rays, nor did it hurl a cloud of plasma toward Earth. It was, in short, a "quiet blast," photogenic but not geoeffective.
A more potent interruption could be in the offing with the formation of a new sunspot in the sun's northern hemisphere. Stay tuned for updates.
---
August 2010 Northern Lights Gallery
[previous Augusts: 2009, 2008, 2007, 2006, 2005, 2004, 2003]
---