| | | |
| --- | --- | --- |
| AURORA ALERTS: Did you miss the Northern Lights? Next time get a wake-up call from Space Weather PHONE | | |
MUST-SEE ASTEROID VIDEO: Astronomer and programmer Scott Manley, formerly of the Armagh Observatory in Northern Ireland, has created a movie showing 30 years of asteroid discoveries in only 3 minutes. Warning: Feelings of claustrophobia have been reported among some viewers. It's crowded out there! Click to play.
SPLASHES OF GREEN: For the third day in a row, a high-speed solar wiind stream is buffeting Earth's magnetic field, energizing bright auroras around the Arctic Circle. "There was quite a heavy outburst last night (Aug. 27)," reports Bernt Olsen from Kvaløya, Norway. "Even though the arctic nights still are bright, we could still see splashes of green in the sky."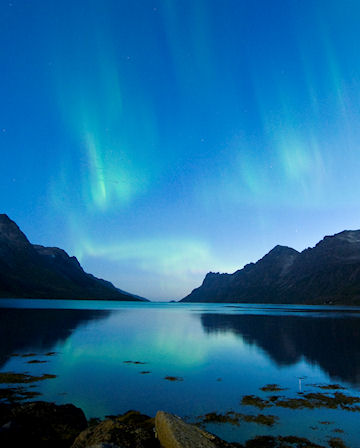 NOAA forecasters estimate a 30% chance of geoomagnetic activity during the next 24 hours as the solar wind continues to blow. High-latitude sky watchers should remain alert for auroras.
August 2010 Northern Lights Gallery
[previous Augusts: 2009, 2008, 2007, 2006, 2005, 2004, 2003]
FIRST LIGHT FROM THE NEW SOLAR TELESCOPE: Before you read another word, click on the image and take a close look at sunspot 1084: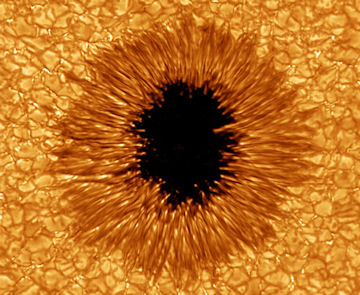 This is a first light adaptive optics image from the New Solar Telescope (NST) at the Big Bear Solar Observatory in California. "With a 1.6-meter primary mirror, the NST is the largest solar telescope in the world," says Nicolas Gorceix of the observatory staff. "It has realtime correction for atmospheric distortion (adaptive optics), so we can see things in very high resolution--as small as 65 km wide on the sun."
"For perspective," he adds, "Earth is slightly smaller than the whole sunspot including the dark umbra and the daisy petal-like penumbra. The spot is surrounded by the sun's ubiquitous granular field [which shows the boiling motions of the sun's surface]."
Researchers believe that high-resolution studies of sunspots can help them understand how sunspots evolve and anticipate when they're about to erupt. "Next year, we plan to upgrade the telescope with a much higher-order adaptive optics system to get even better images," says Gorceix. Stay tuned to the BBSO home page for updates.
---