| | | |
| --- | --- | --- |
| AURORA ALERTS: Did you miss the Northern Lights? Next time get a wake-up call from Space Weather PHONE | | |
MUST-SEE ASTEROID VIDEO: Astronomer and programmer Scott Manley, formerly of the Armagh Observatory in Northern Ireland, has created a movie showing 30 years of asteroid discoveries in only 3 minutes. Warning: Feelings of claustrophobia have been reported among some viewers. It's crowded out there! Click to play.
AURORA AUSTRALIS: Earth is exiting a solar wind stream that has been causing bright auroras around the poles--both poles. Michael Zupanc sends this picture from Australia's Davis Station on the coast of Antarctica: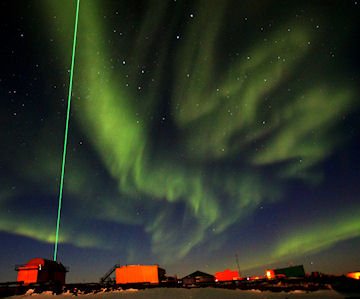 "The tail end of the solar wind stream produced a nice outburst on Aug. 27th," says Zupanc. "Despite having to contend with a nearly full Moon, the auroras were easy to see."
The green laser lancing into the sky is the station's lidar, the optical equivalent of a radar. "We use it to study stratospheric clouds," says Zupanc. The polar atmosphere is a sensitive 'barometer' of climate change and ozone recovery, and the Davis Station lidar is a key tool for researchers. It is able to measure the density, temperature, wind velocity and aerosol loading of critical atmospheric layers above the frozen continent. Plus it looks great during a geomagnetic storm!
Browse the gallery for latest images from the recent display:
UPDATED: August 2010 Northern Lights Gallery
[previous Augusts: 2009, 2008, 2007, 2006, 2005, 2004, 2003]
FOGBOW SEASON BEGINS: Northern autumn is just around the corner, which means the time for fogbows has arrived. Moisture rising from the sun-heated ground condenses in the cool night air, producing low-hanging fogs. When light from the morning sun or Moon hits the mist--voilà--a fogbow: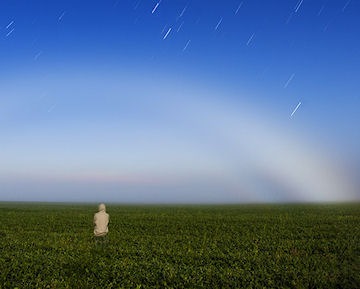 This is a lunar fogbow, photographed by Mike Hollingshead of Blair, Nebraska, just before dawn on August 25th. "I'm finding it rather fun to go lunar fogbow hunting," says Hollingshead. "It takes a pretty calm and cool night to get the fog, and the lunar phase needs to be around full so the Moon is big and low before sunrise. When everything comes together--wow! It's pretty cool to see vivid lunar fogbows arcing over fields in the darkness of night."
"Also seen on August 25th were steamdevils and deer swimming all the way across a lake!" he adds. "It pays to wake up early on cool fall mornings."
more images: from Tom Soetaert of Lawrence, Kansas