What's the name of that star? Where's Saturn? Get the answers from mySKY--a fun new astronomy helper from Meade.
AURORA WATCH: Northern sky watchers should be alert for auroras tonight. A high speed solar wind stream is blowing against Earth's magnetic field, and this could cause a geomagnetic storm.
PHOTOGENIC SUNSPOT: Sunspot 953 is an active region of remarkable beauty. Regard this image taken today by Sebastien Kersten of Le Cocq, Belgium: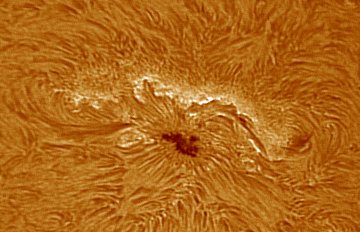 His snapshot reveals not only the dark sunspot, but also a curious bright fringe just above it. This may be a cloud of extra-hot gas held aloft by the sunspot's magnetic field. Or it could be a zone of intense magnetic turbulence crackling with micro-solar flares. Whatever it is, it looks great through a backyard solar telescope. Take a look!
more images: from Rogerio Marcon of Campinas - Brasil; from Pete Lawrence of Selsey, West Sussex, UK; from Emiel Veldhuis of Zwolle, the Netherlands; from Brane Vasiljevic of Observatory Rezman, Kamnik, Slovenia.
SOLAR CYCLE NEWS: This week in Boulder, Colorado, a group of leading solar physicists met to compare and discuss their predictions for the next solar maximum. On April 25th they held a press conference and announced ... a split decision. One camp holds that Solar Cycle 24 will be intense and peak in 2011; a second group predicts a much weaker maximum in 2012.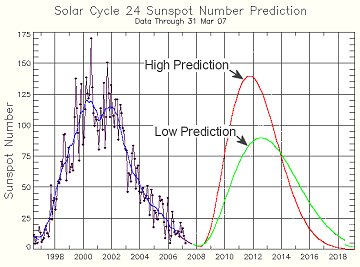 As a community, solar physicists are still undecided on the best way to predict solar activity. The plot, above, is a summary of 40 different forecasts, none of which agree in detail. The confusion won't last forever. As Cycle 24 unfolds, the sun itself will tell us which is correct.
Researchers were able to agree on one thing: Solar activity is entering a period of deep minimum. Based on declining sunspot numbers and other factors, the cycle should hit rock bottom in March 2008 plus or minus six months.