What's the name of that star? Where's Saturn? Get the answers from mySKY--a fun new astronomy helper from Meade.
AURORA WATCH: Northern sky watchers should be alert for auroras tonight. Earth is entering a solar wind stream, and this could cause a geomagnetic storm.
SOLAR CYCLE NEWS: This week in Boulder, Colorado, a group of leading solar physicists met to compare and discuss their predictions for the next solar maximum. On April 25th they held a press conference and announced ... a split decision. One camp holds that Solar Cycle 24 will be intense and peak in 2011; a second group predicts a much weaker maximum in 2012.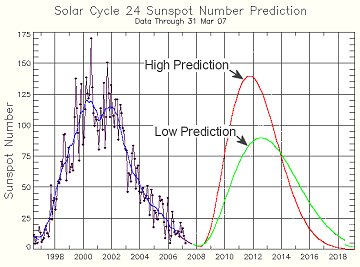 As a community, solar physicists are still undecided on the best way to predict solar activity. The plot, above, is a summary of 40 different forecasts, none of which agree in detail. The confusion won't last forever. As Cycle 24 unfolds, the sun itself will tell us which is correct.
Researchers were able to agree on one thing: Solar activity is entering a period of deep minimum. Based on declining sunspot numbers and other factors, the cycle should hit rock bottom in March 2008 plus or minus six months.
SUNSPOT WATCH: Yesterday at sunset, photographer Mila Zinkova of San Francisco went to the beach to see sunspot 953, "but I had a hard time to finding it," she says. Seagulls kept getting in the way: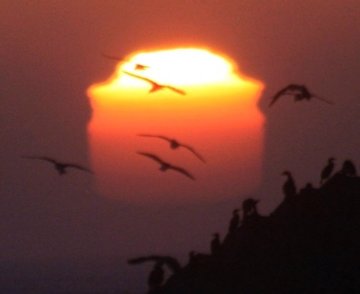 Photo details: Canon XTI, 300 mm Canon Lens, Landscape mode
The strange shape of the sun is a mirage, caused by multiple temperature inversion layers just above the sea surface. This distortion, as much as the intervening gulls, makes sunspot 953 difficult to see. Yet it is there, four times wider than Earth and wonderful to behold through backyard solar telescopes. Browse the images, below:
Sunspot 953: from Peter Paice of Belfast, Northern Ireland; from Robert Arnold on the Isle of Skye, Scotland; from Emiel Veldhuis of Zwolle, the Netherlands; from Howard Eskildsen of Ocala, Florida.
NOCTILUCENT CLOUDS: NASA's AIM spacecraft left Earth this week on a mission to study mysterious noctilucent clouds. These clouds, which glow electric blue and appear only at night, were first noticed in the 19th century over polar regions. In recent years, they've brightened and spread to lower latitudes. What causes noctilucent clouds? Theories range from space dust to global warming. AIM will scrutinize the clouds from orbit to find out what they may be telling us about our planet.
Noctilucent Cloud Photo Gallery
Visit the gallery for observing tips and sample camera settings.