What's the name of that star? Where's Saturn? Get the answers from mySKY--a fun new astronomy helper from Meade.
AURORA WATCH: Northern sky watchers should remain alert for auroras tonight. A high speed solar wind stream is blowing against Earth's magnetic field, and this is causing mild geomagnetic storms.
PHOTOGENIC SUNSPOT: Sunspot 953 is an active region of remarkable beauty. Regard this image taken yesterday by Sebastien Kersten of Le Cocq, Belgium: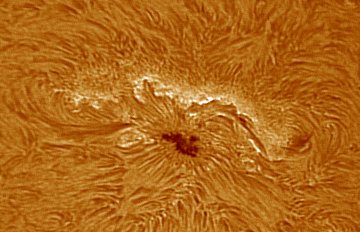 Sunspot 953: the view through an H-alpha filter.
His snapshot reveals not only the dark sunspot, but also a curious bright fringe just above it. This may be a cloud of extra-hot gas held aloft by the sunspot's magnetic field. Or it could be a zone of intense magnetic turbulence crackling with micro-solar flares. Whatever it is, it looks great through a backyard solar telescope. Take a look!
more images: from Sylvain Weiller of Saint Rémy lès Chevreuse, France; from Emiel Veldhuis of Zwolle, the Netherlands; from Jack Newton of Osoyoos, BC; from P-M Hedén of Vallentuna, Sweden; from Robert Arnold on the Isle of Skye, Scotland; from Rogerio Marcon of Campinas - Brasil; from Pete Lawrence of Selsey, West Sussex, UK; from Brane Vasiljevic of Observatory Rezman, Kamnik, Slovenia; from Peter Paice of Belfast, Northern Ireland; from James Witt of Phoenix Arizona; from Monty Leventhal of Sydney. Australia; from Jean-Paul GODARD near Paris, France.
LUNAR TRANSIT: According to Eurocontrol, more than 7000 planes fly over Germany every day. On April 24th Martin Wagner of Sonnenbuehl-Genkingen, Germany, photographed one of them flying directly in front of the Moon: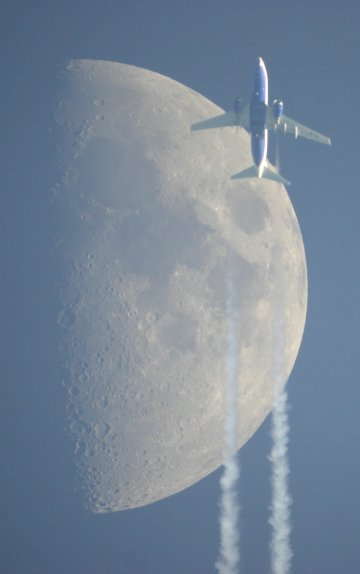 Photo details: Canon EOS 300D, 10-inch Newtonian telescope
Just yesterday he caught another plane almost transiting the Moon. And he has photographed aircraft silhouetting the sun many times.
It's not just Germany. On any given day, hundreds of thousands of flights cross-cross skies worldwide, and some of those planes are bound to fly in front of the sun and Moon. Indeed, one of the most common types of photo received by spaceweather.com is the "air transit." Here are a few examples: from P-M Hedén of Vallentuna, Sweden; from Sylvain Weiller of Saint Rémy lès Chevreuse, France; from Erwin Kats of Belgium; from Matthieu Conjat of Nice, France; from Karsten Lindenmaier near Germany's Rhein-Main Airport; from Patricia Cannaerts of Belgium;