What's the name of that star? Where's Saturn? Get the answers from mySKY--a fun new astronomy helper from Meade.
AURORA WATCH: A solar wind stream is heading for Earth and it could spark a geomagnetic storm when it arrives on April 28th. Northern sky watchers should be alert for auroras.
NEW SUNSPOT 953: New sunspot 953 is four times wider than Earth and it's putting on a good show for anyone with a solar telescope. This picture comes from P-M Hedén of Vallentuna, Sweden: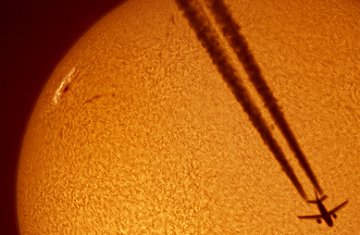 Photo details: Orion 80ED, Solarmax 60 filter, Canon Digital Rebel XT.
"I was watching sunspot 953 when an airplane crossed the surface of the sun," explains Hedén. "It was a great sight!" The sunspot appears to be growing, so it may be even more impressive in the days ahead. Stay tuned.
more images: from Pat Stoker of Anaheim, CA; from Cai-Uso Wohler of Bispingen, Germany; from Robert Arnold on the Isle of Skye, Scotland; from David Storey on the Isle of Man, UK; from Chuck Baker of Carlsbad, CA.
BONUS: In Troutdale, Oregon, artist Mark Seibold was so impressed by the view through his SolarMax40 that he decided to paint sunspot 953: portrait. "The sun is alive! " he says.
NIGHT-SHINING CLOUDS: NASA's AIM spacecraft is in Earth orbit today following a flawless Wednesday afternoon launch aboard an Pegasus XL rocket. AIM is on a mission to study mysterious noctilucent clouds, such as these photographed by Jan Koeman from his home in the Netherlands in June 2005: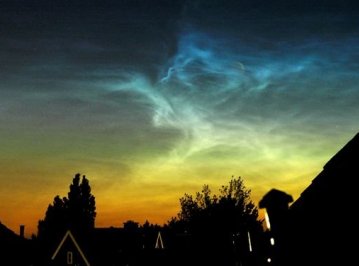 Photo details: Nikon D70, 400 ISO, 4 second exp.
Noctilucent clouds ("NLCs" for short) were first noticed in the 19th century following the eruption of the Krakatoa volcano. After sunset, electric-blue tendrils would spread across the western sky, mesmerizing onlookers. At first scientists thought the clouds were a side-effect of the eruption, but long after Krakatoa's dust has settled, the clouds are still here. Indeed, they are becoming more widespread. Originally confined to high latitudes such as Canada and Scandinavia, NLCs have been seen in recent years as far south as Viriginia and Colorado.
What causes NLCs? Theories range from space dust to global warming. For the next two years, AIM will scrutinize these clouds from Earth orbit to learn what they may be telling us about our planet.
Noctilucent Cloud Photo Gallery
Visit the gallery for observing tips and sample camera settings.
3D SUN: Put on your 3D glasses. NASA has released the first 3-dimensional images of the sun taken by the STEREO spacecraft. The gallery displays a nice selection of coronal holes, polar plumes and fiery prominences--and there are more to come!