What's the name of that star? Where's Saturn? Get the answers from mySKY--a fun new astronomy helper from Meade.
AURORA WATCH: Sky watchers from Scandinavia to Alaska should be alert for auroras tonight. A solar wind stream is buffeting Earth's magnetic field, and this could cause a geomagnetic storm.
3D SUN: Grab your 3D glasses. NASA has just released the first batch of 3-dimensional sun photos taken by the STEREO spacecraft. This image, for instance, reveals three dark holes in the sun's atmosphere: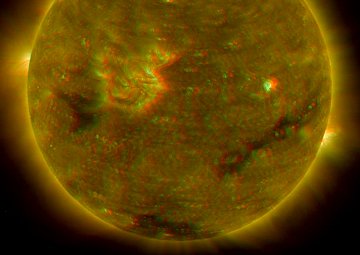 Click on the image for a full-sized view
The "holes" are coronal holes, places where the sun's magnetic field opens up and allows solar wind to escape. Earth is inside a solar wind stream flowing from one of these coronal holes today. 3D imagery allows scientists to peer inside coronal holes and divine their structure, possibly leading to better space weather forecasts.
3D GLASSES: Build them at home or buy them online.
NOT A LYRID: Last Friday night, April 20th, at 11 pm MDT, a brilliant fireball streaked over western Colorado. "Witness reports for the event began pouring in almost immediately, mostly from the Denver area," says Chris Peterson whose all-sky camera located in Guffey, Colorado, captured the meteor in flight:
Peterson points out the bright spot just north of the meteor. "That's the crescent Moon, which at 20% phase had a magnitude of -8.3. The meteor was much brighter than this."
Although the fireball occurred during the Lyrid meteor shower, it was not a Lyrid. Lyrids are meteors caused by dust in the tail of Comet Thatcher; they always appear to come from the constellation Lyra. "But the path of this fireball did not intersect Lyra," notes Peterson.
Astronomers call this kind of fireball a "sporadic." It was caused by a random fragment of comet or asteroid probably the size of a grapefruit. The inner solar system is littered with such fragments, and they hit Earth often. Sporadic fireballs as bright as this one appear somewhere on our planet about once a day.