What's the name of that star? Where's Saturn? Get the answers from mySKY--a fun new astronomy helper from Meade.
AURORA WATCH: Sky watchers from Scandinavia to Alaska should be alert for auroras tonight. Earth is entering a solar wind stream, and this could cause a geomagnetic storm.
3D SUN: On Monday, April 23rd, NASA will release, for the first time, 3-dimensional photos of the sun taken by the STEREO spacecraft. Magnetic loops and prominences will practically leap out of your computer screen. These images will be displayed on big screens at museums and science centers around the USA (list) and posted on the internet. Get ready this weekend by buying or building some 3D glasses--and stay tuned for Monday!
NOT A LYRID: The Lyrid meteor shower is underway, and peaking this weekend, but this bright fireball photographed Friday night by Chris Peterson of Guffey, Colorado, is not a Lyrid:
"It's just a coincidence that the fireball happened during the Lyrid shower," says Peterson. Lyrids are meteors caused by dust in the tail of Comet Thatcher; they always appear to come from the constellation Lyra. "But the path of this fireball did not intersect Lyra."
"Hundreds of people saw it," he adds. "It was much brighter than the 20% full Moon (magnitude -8.3)." The Moon is the bright spot in the image at azimuth 300 degrees.
Astronomers call this kind of fireball a "sporadic." It was caused by a random fragment of comet or asteroid just happening by on April 20th. The inner solar system is littered with such fragments, and they hit Earth often. Sporadic fireballs as bright as this one appear somewhere on Earth about once a day.
KITE SURFER'S SUN PILLAR: Can you guess, what is the dark crescent in this sunset photo taken yesterday by Mila Zinkova of San Francisco?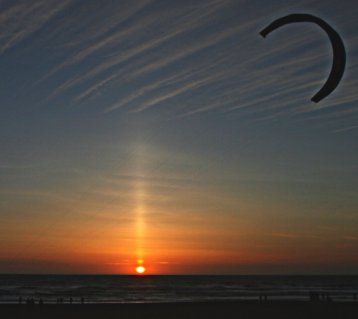 "It's a parachute," answers Zinkova. "Surfers use them to ride the waves--a sport called kite surfing. Sometimes the surfers even fly in the air a short distance. I could not show the surfers in the picture, however, because I would have overexposed the sun pillar in the background."
The air, it seems, was filled not only with floating surfers, but also floating ice crystals. Flat plate-shaped crystals fluttering down from high clouds caught the rays of the setting sun and redirected them into a vertical column of light. Sun pillars may be seen whenever icy clouds drift across the sunset. Look for them!