What's the name of that star? Where's Saturn? Get the answers from mySKY--a fun new astronomy helper from Meade.
SOLAR ACTIVITY: After days of quiet, the sun's eastern limb is suddenly alive with prominences. "What a pleasure to observe our fantastic star from Earth," says Franck Charlier of Val d'Oise, France, who took this picture using his Coronado SolarMax40. The activity may herald the approach of an active region just around the bend. Stay tuned.
3D SUN: Grab your 3D glasses. NASA has released the first batch of 3-dimensional sun photos taken by the STEREO spacecraft. This anaglyph shows a polar plume: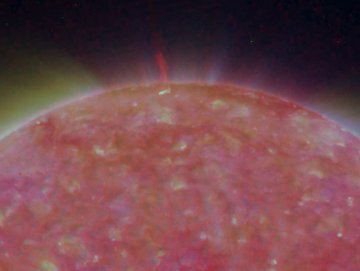 Plumes are towers of gas held together by solar magnetic fields. They rise out of coronal holes, persisting for a day or so before fading away again. Matter inside a plume is 20 to 30 times denser than outside, and it is thought that this dense material is spewing away from the sun. Plumes are not a major source of solar wind, but they may contribute substantial currents to the overall pattern of diffuse wind from the sun. It's a mystery which 3D views from from STEREO may help solve. Click here for more 3D images.
3D GLASSES: Build them at home or buy them online.
A FLOATING CITY: "The sunset tonight was spectacular!" says Pete Lawrence of Selsey, UK. "As the sun descended behind the silhouetted city of Portsmouth, its contents appeared to pour beneath the buildings producing a pool of fire."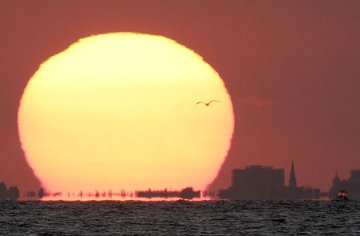 Photo details: Canon 10D, Skywatcher ED80 (prime focus), ISO 100, 1/250s
While the city appears to be floating on fire, it is actually hot air that produces this mirage. Atmospheric optics expert Les Cowley explains: "Downward sun rays are bent gently upwards again by a layer of hot air close to the water. This causes a second inverted sun to appear beneath the 'real' one.--a classic inferior mirage. The town buildings are equally mirrored."
"While all this was was happening," adds Lawrence, "bits and pieces of sun were detaching from the top and distorting. It was an amazing thing to watch." More images: #1, #2, #3, #4.