What's the name of that star? Where's Saturn? Get the answers from mySKY--a fun new astronomy helper from Meade.
3D SUN: On Monday, April 23rd, NASA will release, for the first time, 3-dimensional photos of the sun taken by the STEREO spacecraft. Magnetic loops and prominences will practically leap out of your computer screen. These images will be displayed on big screens at museums and science centers around the USA (list) and posted on the internet. Get ready this weekend by buying or building some 3D glasses--and stay tuned for Monday!
AURORA WATCH: A solar wind stream is heading for Earth and it could cause a geomagnetic storm when it arrives on April 21st or 22nd. Sky watchers from Scandinavia to Alaska should be alert for auroras.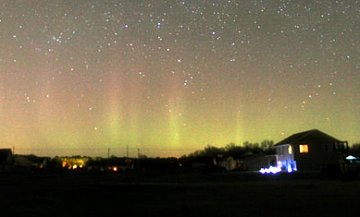 Advice: Can't see any auroras? Use your camera. Auroras too faint for the unaided eye often show up beautifully in a exposure of only 10 seconds or so. Pictured above are some "photographic auroras" recorded April 17th by Tony Wilder of Chippewa Falls, Wisconsin, on April 17th. "I used a Canon 30D set to ISO 1000," he says.
WEEKEND METEORS: Earth is entering the dusty tail of Comet Thatcher, and this will cause a mild meteor shower this weekend. It's called the Lyrid meteor shower because the bits of incandescent comet dust appear to come from the constellation Lyra. The best time to look is during the dark hours before dawn on Sunday, April 22nd, and Monday, April 23rd, when you can expect to see a shooting star overhead every 5 minutes or so: sky map.
Meanwhile on the Moon: There's going to be a meteor shower on the Moon, too, but unlike Earth the Moon has no atmosphere to intercept Lyrids. Instead, meteoroids will hit the lunar surface and explode. This diagram shows how Lyrids will rain down over the north pole of the crescent Moon: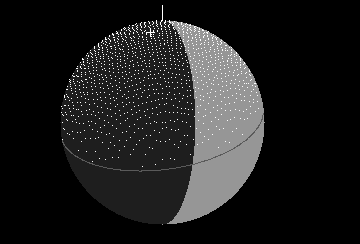 Credit: Bill Cooke, NASA Meteoroid Environment Office, MSFC
Using a Meade 14-inch telescope, astronomers at NASA's Marshall Space Flight Center have shown that lunar meteors are sometimes observable from Earth. They appear as brief flashes of light ranging in brightness from 3rd to 8th magnitude. If you're up for a challenge, train your telescope on the dark side of the crescent Moon this weekend; you might catch an exploding Lyrid.