What's the name of that star? Where's Saturn? Get the answers from mySKY--a fun new astronomy helper from Meade.
MERCURY RISING: Tonight when the sun sets, step outside, face west, and look for Mercury hanging just above the tree tops. Elias Chasiotis of Markopoulo, Greece, snapped this picture on May 12th. "Mercury is brighter than magnitude -1 and visible to the naked eye," he reports. Can't find it? Wait a few days. Mercury is emerging from the sun's glare, making itself easier to find with each passing night in May.
CALCIUM STAR: The sun is made mainly of hydrogen (73%) and helium (25%), but there are small amounts of other things, too, such as calcium (0.003%), the element of human bone! If you could see the sun's calcium, what would it look like? Larry Alvarez provides the answer with this picture taken yesterday from his home in Flower Mound, Texas:

Photo details: Coronado 70mm Calcium CaK telescope and Lumenera ccd.
He captured the image using a CaK filter tuned to the violet glow of singly-ionized calcium. "I pumped up the gain on my ccd detector and was able to image beautiful flowing fountains of plasma on the edge of the solar disk," he says. "The view was amazing."
GREEN COMET: Comet Lovejoy (C/2007 E2) is not quite bright enough to see with the unaided eye, but the sea-green comet is a lovely sight through backyard telescopes. Using a 6-inch refractor, John Chumack took this picture last night: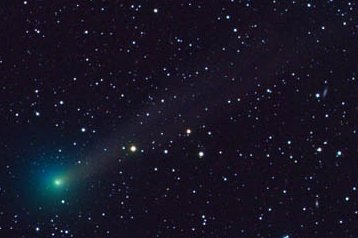 "Several little galaxies are visible in the background," notes Chumack. "Look below the comet's tail."
Comet Lovejoy enjoys minor fame for the method of its discovery. Australian Terry Lovejoy found it two months ago using no telescope, only a digital camera (a Canon 350D). The comet's green head, glowing about as brightly as an 8th magnitude star, is one and a half times wider than the giant planet Jupiter. This comet is big!
You can find Comet Lovejoy this week gliding through the constellation Draco, high in the northern sky after sunset. A good night is May 14th when Lovejoy passes right by the 2nd magnitude star eta Draconis. The star will guide you to the comet. Sky maps: May 12, 13, 14, 15.
more images: from Mike Holloway of Van Buren, Arkansas