What's the name of that star? Where's Saturn? Get the answers from mySKY--a fun new astronomy helper from Meade.
ASTEROID FLYBY: Discovered only a few days ago by astronomers in Arizona, asteroid 2007 JZ2 is flying past Earth today about 1.7 million miles away. Big telescopes in the southern hemisphere may be able to observe this small (30m), faint (19th magnitude) space rock zipping through the constellations Pavo and Indus at 30,000 mph: ephemeris.
NEW SUNSPOT: A new sunspot is forming near the sun's eastern limb. Just a few hours ago, Cai-Uso Wohler of Bispingen, Germany, took this picture using his Coronado SolarMax60: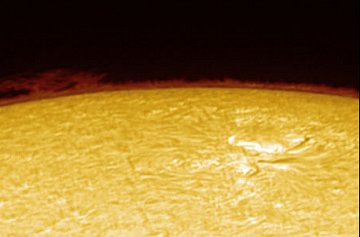 Dark magnetic tentacles seem to be clawing their way through the sun's surface. What will emerge? Stay tuned!
GREEN COMET: Comet Lovejoy (C/2007 E2) is not bright enough to see with the unaided eye, but the sea-green comet is a lovely sight through mid-sized backyard telescopes. Using a 6-inch refractor, John Chumack took this picture two nights ago: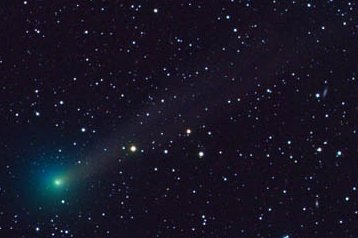 Comet Lovejoy enjoys minor fame for the method of its discovery. Australian Terry Lovejoy found it two months ago using no telescope, only a digital camera (a Canon 350D). The comet's gaseous head, glowing about as brightly as an 8th magnitude star, is one and a half times wider than Jupiter. This comet is big! It is green because it contains cyanogen (CN), a poisonous gas, and diatomic carbon (C2). Both substances glow green when illuminated by sunlight in space via a process called resonant fluorescence.
You can find Comet Lovejoy this week gliding through the constellation Draco, high in the northern sky after sunset. A good night is May 14th when Lovejoy passes right by the 2nd magnitude star eta Draconis. The star will guide you to the comet. [sky map] [ephemeris] [3D orbit]
more images: from Mike Holloway of Van Buren, Arkansas; from Kieran Rooney of Northern Ireland; from Primoz Cigler of Senovo, Slovenia; from Peter Heinzen of Sternwarte "Simplon-Adler" WalliserAlps, Switzerland