What's the name of that star? Where's Saturn? Get the answers from mySKY--a fun new astronomy helper from Meade.
ELASTIC SUNSPOT: Sunspot 955 is growing and changing shape as if it's made of elastic. In fact, it's made of magnetism, and the changes shown in this 3-day movie are caused by a reorganization of the sunspot's underlying magnetic field. Sometimes fast-changing magnetic fields become unstable and explode, but so far that hasn't happened to sunspot 955. Stay tuned.
IT CAME FROM OUTER SPACE: Actually, it probably came from Russia. This dust mite was found in 1996 floating aboard the Russian space station Mir: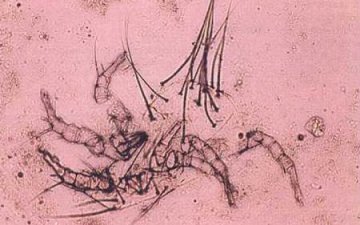 To be precise, it was found swimming inside a basketball-sized globule of water, floating unseen behind a service panel in Mir's Kvant-2 module. Swimming along with the dust mite were protozoa, amoeba and many species of bacteria.
All these microorganisms came from Earth, hitchhiking their way to space inside astronauts' luggage, on packages of food and equipment, and even on the astronauts themselves. It turns out that microorganisms thrive onboard spaceships, posing a threat not only to the crew, but also to the spaceship itself. Click here to learn more about this problem and what NASA is doing to prevent it.
GREEN COMET: Comet Lovejoy is not quite bright enough to see with the unaided eye, but the sea-green comet is a lovely sight through backyard telescopes. Using a 6-inch refractor, John Chumack took this picture last night: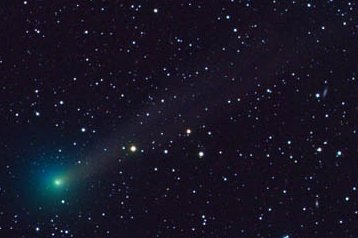 "Several little galaxies are visible in the background," notes Chumack. "Look below the comet's tail."
Lovejoy is gliding through the constellation Draco, high in the northern sky after sunset. A great night to find it is May 14th when the comet passes right by the 2nd magnitude star eta Draconis. The star will guide you to the comet. Take a look! Sky maps: May 12, 13, 14, 15.