| | | |
| --- | --- | --- |
| AURORA ALERT: Did you sleep through the northern lights? Next time get a wake-up call: Spaceweather PHONE. | | |
AURORA WATCH: A solar wind stream is heading for Earth and it could cause geomagnetic storms when it arrives late on Dec. 30th or 31st. High-latitude sky watchers should be alert for auroras.
SUNSET PLANETS: When the sun goes down tonight, step outside and look southwest. That bright light high in the sky is Venus. From there, trace a line down into the sunset. Along the way you'll run into the crescent Moon, Jupiter and Mercury: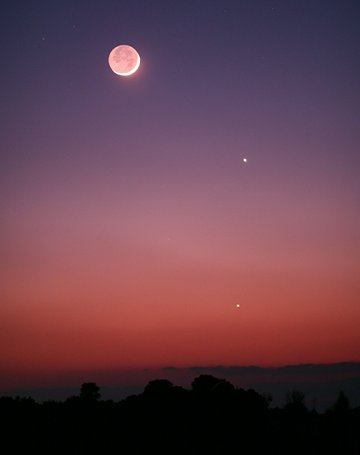 Photo details: Canon EOS 5D, ISO 800, 200 mm f/1.8 lens, 1.6s
"I took this picture tonight from the countryside near Tavas, Turkey," says photographer Tunç Tezel. "The triplet reminded me of the Great Conjunction of December 1st. But in this case the low-hanging trio had even nicer twilight colors."
The Moon is en route to Venus for a spectacular conjunction on Dec. 31st. On New Year's Eve, the two brightest objects in the night sky will shine through city lights and even fireworks--so everyone can enjoy the show. It's a nice way to end the year. Sky maps: Dec. 29, 30, 31.
more photos: from Piotr Majewski of Torun, Poland; from Tamas Ladanyi of Tes, Hungary; from Peter and John Stetson of Portland, Maine; from Günther Strauch of Borken, NRW, Germany; from Scott Calvin of San Francisco, California; from Pete Glastonbury of Devizes, Wiltshire, UK; from Gonzalo Vargas of Cochabamba, Bolivia; from Mohammad Soltanolkottabi of Kashan, Iran; from Mustafa Erol of Antalya, Turkey; from Koshu Endo of Kanagawa, Japan; from Masa Nakamura of Otawara, Tochigi, Japan;
from Rick Ulrich of Springdale, Arkansas; from Ginger Mayfield of Divide, Colorado; from Doug Zubenel of Wabaunsee County, Kansas;
SHADOWS OF VENUS: The legend is true. Venus is bright enough to cast shadows. The silhouette on this white screen is framed by the light of the Goddess of Love: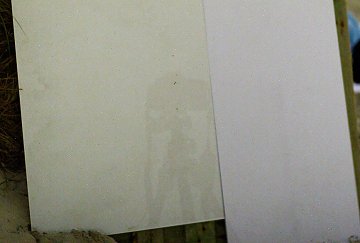 Play the movie: 3 MB Quicktime
French photographer Laurent Laveder took the picture and here he explains how it was done: "On Christmas evening, I went to the beach to capture the inconspicuous shadows cast by Venus. I positioned my camera (a Canon 40D) between Venus and the screen and then I made several 30 second exposures at 1600 ISO with a Sigma 30mm lens open at 1.4. The camera's shadow showed up quite nicely."
Stitching together consecutive exposures, Laveder created a must-see movie. It shows the shadow moving up as Venus descends into the waves behind the camera.
Readers, now is the time to catch your own Venus shadow. The crescent Moon sets just after the sun, so the only light in dark places belongs to Venus herself. Give it a try.
---
Dec. 2008 Nacreous Cloud Gallery
[January 2008 Gallery] [Nacreous tutorial]