| | | |
| --- | --- | --- |
| AURORA ALERT: Did you sleep through the northern lights? Next time get a wake-up call: Spaceweather PHONE. | | |
NEW ENGLAND FIREBALL: Last night, Dec. 29th at 9:30 p.m. EST, sky watchers in Maine, New Hampshire, Massachusetts, New York and New Jersey witnessed a magnitude -9 fireball that exploded colorfully in mid-flight. No one knows if fragments of the meteoroid reached the ground. Readers, if you saw or photographed this event, please submit a report. Updated: Eye-witness accounts
AURORA ALERT: "The Northern Lights are coming," says Rob Stammes of the Polar Light Center in Lofoten, Norway. He bases his prediction on what is happening right now in the ground outside his magnetic observatory. "Electrical currents are surging through the Earth. Here is the recording from my ground current instrument.".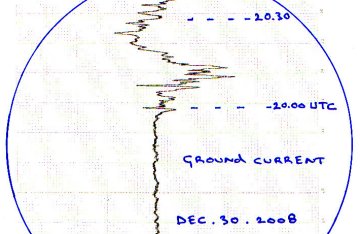 The cause of this activity is a solar wind stream hitting Earth. The impact of the solar wind rattles Earth's magnetic field which, in turn, induces electrical currents in the ground. "This kind of ground current surge normally precedes beautiful Northern Lights," notes Stammes. High-latitude sky watchers should be alert for auroras tonight.
Dec. 2008 Aurora Gallery
[Previous Decembers: 2007, 2006, 2005, 2001, 2000]
SUNSET PLANETS: When the sun goes down tonight, step outside and look southwest. The crecent Moon and Venus are beaming brightly through the sunset: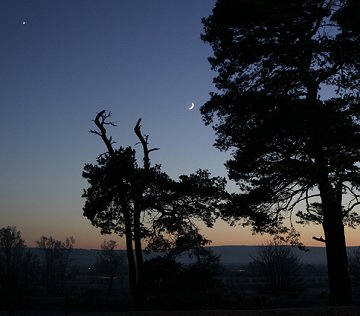 "I'm glad I finished work early today," says photographer Alan C Tough of Elgin, Scotland. "It was a beautiful sight!"
The view improves tomorrow night when Venus and the Moon converge for a New Year's Eve conjunction visible through thin clouds, city lights and even fireworks. It's a nice way to end the year; don't miss it! Sky maps: Dec. 30, 31.
more images: from Babak Tafreshi of Dasht-e Kavir (Great Salt Desert), Semnan Province, Iran; from Martin Adamovsky of Pilsen observatory, Czech Republic; from Amir H. Abolfath of Tehran, Iran; from Valentin Grigore of Targoviste, Romania; from Albert Engert of Würzburg, BY, Germany; from Chris Bushnall of Northampton, UK; from Freddy Diaz of Cordova, Tennessee; from Robbie Merrill of Mesa, Arizona; from Jonathon Stone of Cullman, Alabama; from Piotr Majewski of Torun, Poland; from Tamas Ladanyi of Tes, Hungary; from Peter and John Stetson of Portland, Maine;
---
Dec. 2008 Nacreous Cloud Gallery
[January 2008 Gallery] [Nacreous tutorial]