NOT-A-SUNSPOT: A large, diffuse magnetic dipole is emerging in the sun's northern hemisphere: map. It's too spread out to form a sunspot, but it may prove interesting nevertheless. In the neutral folds of such regions, dark filaments of plasma are known to form and sometimes erupt. If you have a solar telescope, take a look.
TWO SPACESHIPS: How often do you look through the eyepiece of your telescope and see two spaceships? It happened last night to Janusz Krysiak when space shuttle Endeavour and the International Space Station flew over his backyard observatory in Koluszki, Poland: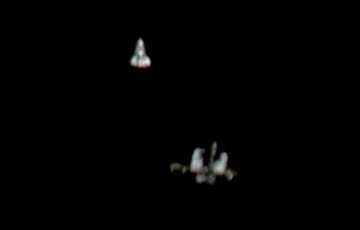 Endeavour undocked from the ISS on Nov. 28th and it is scheduled to land in Florida on Sunday, Nov. 30th. In the meantime, many sky watchers will be able to see the two flying together through the night sky. Endeavour is about as bright as Jupiter, while the ISS shines like Venus--you can't miss them. Check the Simple Satellite Tracker for flyby times.
more images: from Martin Mc Kenna of Maghera, Co. Derry, N. Ireland; from Marco Langbroek of Leiden, the Netherlands; from Pawel Warchal of Cracow, Poland; from Martin Popek of Nýdek, Czech Republic; from Andrzej Marks of Stargard Szczecinski, Poland;
SUNSET PLANETS: When the sun goes down tonight, step outside and look southwest. Venus and Jupiter are having a stunning close encounter in the twilight sky. Paulo Casquinha sends this picture taken just hours ago from Langkawi, Malaysia: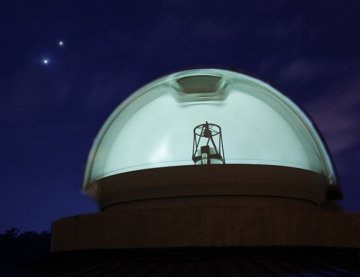 "The planets were shining over the main telescope of Langkawi National Observatory," says Casquinha. "We made the dome 'transparent' by intentionally rotating it during the exposure."
This beautiful view is about to improve. On Nov. 30th and Dec. 1st, the crescent Moon will leap up from the horizon, joining Jupiter and Venus in a three-way conjunction that some astronomers are calling "the best sky show of the year." Don't miss a single night: Nov. 29, 30, Dec 1.
more images: from Thierry Demange of Erstein, Alsace, France; from Martin Mc Kenna of Maghera, Co. Derry, N. Ireland; from Idan Rawet of Tel Aviv, Israel; from Salvador Aguirre of Hermosillo, Sonora, Mexico; from Sheri Barrington of Weymouth, UK; from Peter Paice of Belfast, Northern Ireland; from Niloofar Khavari of Dehkade, Karaj, Iran; from Rick Ellis of Toronto, Canada; from Tom Wagner of Waterloo, Iowa; from Xiang Zhan of Beijing, China; from Fabio Dornelles of Porto Alegre, RS, Brazil; from Mike O'Leary of El Cajon, California; from Michael Caplan of Gurnee, Illinois; from Gary A. Becker of Coopersburg, Pennsylvania; from Benedikte Hole of Oslo, Norway; from Zlatko Pasko of Stara Pazova, Serbia; from Patrick Boomer of Alberta, Canada; from Mahdi Zamani of Kan, Iran; from Wienie van der Oord of Arava desert, Israel; from Paul Evans of Raloo, County Antrim, Northern Ireland; from Patrick Claxton of El Paso, Texas;
---
Nov. 2008 Aurora Gallery
[Previous Novembers: 2007, 2006, 2004, 2003, 2001, 2000]