ENDEAVOUR RETURNS: "Welcome home, Endeavour!" Mission controllers radioed the greeting moments after the shuttle landed at Edwards Air Force Base this afternoon. Bad weather in Florida forced a detour to sunny California where Endeavour touched down at 1:25 p.m. PST on Sunday, Nov. 30th. The safe landing brings an end to a 15-day home improvement mission to the ISS.
SUNSET PLANETS: The sky show of the year is underway. Just a few hours ago, Ramiz Qureshi of Karachi, Pakistan, took this picture of the crescent Moon bearing down on Venus and Jupiter: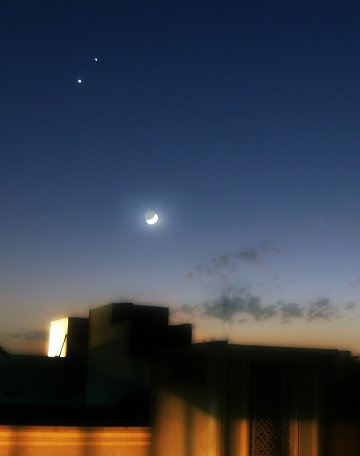 During the next 24 hours, Luna will continue her approach, converging with the two planets to form a spectacular sunset triangle on Monday, Dec. 1st. The bright 3-way conjunction will be visible from all parts of world, even from light-polluted cities. So pause when the sun goes down and take a look outside; you'll be glad you did. Sky maps: Nov. 30, Dec 1.
more images: from Stephen O'Meara of Kilauea, Volcano, Hawaii; from Brian Kennedy of Orlando, Florida; from John Gauvreau of Binbrook, Ontario, Canada; from Stephen McCaul on the coast of Scotland overlooking the Isle of Skye; from Claudio Bottari of Locorotondo, Italy; from Bum-Suk Yeom of Daejeon, South Korea; from Mike O'Leary of San Diego, CA; from Bill Smith of Cherry Creek, NY; from Albert Engert of Würzburg, Germany; from Marion Haligowski of Phoenix, Arizona; from Gregg Waldron of Morristown, NJ; from Joe Ricci of Rochester, New York; from Katy and John Stetson of Portland, Maine; from Adrian Guzman of San Jose, California; from Claudio Pincelli of Southampton, Massachusetts; from Thierry Demange of Erstein, Alsace, France; from Martin Mc Kenna of Maghera, Co. Derry, N. Ireland;
THE OTHER CONJUNCTION: While all eyes are on Venus and Jupiter in the evening sky, another conjunction is taking place at high noon. Mars and Mercury are having a close encounter of their own within 3o of the sun: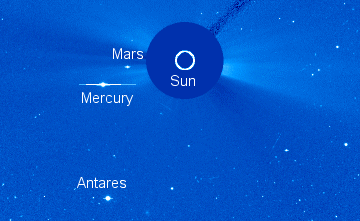 The Solar and Heliospheric Observatory (SOHO) took the picture earlier today. SOHO's onboard coronagraph blocked the glare of the sun to reveal the planets and first-magnitude star Antares nearby. Human eyes cannot see this conjunction--it hurts to look. SOHO images, on the other hand, are utterly painless; click here for the latest.
---
Nov. 2008 Aurora Gallery
[Previous Novembers: 2007, 2006, 2004, 2003, 2001, 2000]