| | | |
| --- | --- | --- |
| Where's Saturn? Is that a UFO--or the ISS? What's the name of that star? Get the answers from mySKY--a fun new astronomy helper from Meade. | | |
EARTH HOUR: Do you love starry skies? Would you like to help the environment? Tonight (March 29) at 8 p.m. local time, join millions of people around the world in turning off your lights for Earth Hour, an event created by the World Wildlife Fund. The best photos of urban skies during the event will be published on spaceweather.com: Submit your images.
JULES VERNE AND THE ISS: The European Space Agency's Jules Verne cargo carrier is maneuvering around the International Space Station this weekend and the two spacecraft are drawing very close together in the night sky. Maneuvers ending tonight will leave Jules Verne parked only 16 km from the ISS.
On March 28th Tom A. Warner photographed the pair flying over Rapid City, South Dakota; click on the image to play his movie:
"Jules Verne was following the ISS and quite a bit dimmer [but still easy to see]," he says. "The movie consists of nine 30-second exposures I made using a Nikon D300 set at ISO 400."
Jules Verne has never docked with the ISS before; the ongoing maneuvers are practice runs. A key date is March 31st when Jules Verne will will come within 11 meters of the station before backing away again. If all goes well, the cargo carrier will perform an actual, automated docking on April 3rd. European sky watchers can see these events with their own eyes as the two spacecraft fly over their continent in the evenings ahead. Check http://heavens-above.com for European flyby timetables.
more images: from Jirka Bulant of Orlov, the Czech Republic;
SUNSPOT SUNSET: Last Thursday evening, Mark Walters of Four Crosses, Wales, trained his Personal Solar Telescope on the western horizon--"I was hoping to catch the new sunspots before nightfall," he says--and took this dramatic photo: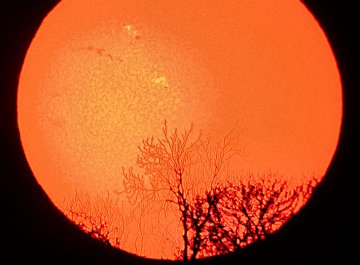 "The sun was setting behind trees almost a mile away," he explains. "The branches look almost frosted compared to the furnace behind." In the photo, sunspots 987 and 988 are the light-and-dark blotches just above the treetops. These old-cycle spots are putting on a good show for amateur astronomers with solar telescopes--no trees required!
more images: from Cai-Uso Wohler of Bispingen, Germany; from Pete Lawrence of Selsey, West Sussex, UK; from Mark Sibole of Fife Lake Michigan; from Malcolm Park of London, England; from P-M Hedén of Vallentuna, Sweden; from Ching Yu of Amsterdam, The Netherlands; from Stephen Ames of Hodgenville, KY; from Javier Temprano of Santander, Spain; from Joel Bavais of Anvaing, Belgium; from Paul Haese of Blackwood, South Australia; from Masa Nakamura of Tochigi, Japan; from Matthias Juergens of Gnevsdorf, Germany; from Peter Garbett of Sharnbrook, UK; from Michael Buxton of Ocean Beach, CA; from Jan Timmermans of Valkenswaard, The Netherlands;
---
March 2008 Aurora Gallery
[Aurora Alerts] [Night-sky Cameras]