| | | |
| --- | --- | --- |
| SPACESHIP SIGHTINGS: Would you like a call when the space station is about to fly over your backyard? Sign up for Spaceweather PHONE. | | |
EXTRATERRESTRIAL AURORAS: Lately, NASA's Cassini spacecraft has been monitoring some lovely Northern Lights--on Saturn! Saturn's auroras tower 750 miles above the planet's atmosphere, forming a ring of shimmering light wider than Earth itself. Mission scientist Andy Ingersoll discusses the findings in a 40 MB video from NASA.
SPACESHIP SIGHTINGS: The double flybys are over. Space shuttle Atlantis landed in Florida on Friday morning, Nov. 27th, leaving the International Space Station (ISS) to impress observers all by itself. No problem: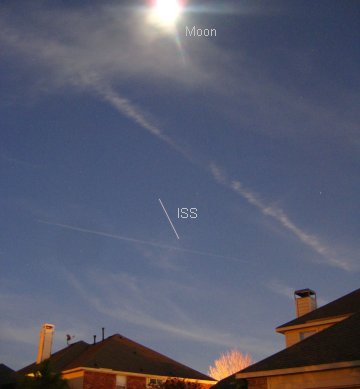 "The ISS put on a great show Friday night," says photographer Michael Harrison of Plano, Texas. "It was easy to see even in the brightly moonlit sky."
The space station, solo but still sensational, will continue flying over North America and Europe for several nights to come. Check the Simple Satellite Tracker to find out when to look.
more images: from Mustafa Erol of Antalya/Turkey; from Keith Geary of Shercock, Co.Cavan, Ireland; from Doug Zubenel of De Soto, Kansas; from Ian Mercier of East Angus, Québec, Canada; from Sylvain Weiller of Saint Rémy lès Chevreuse, France; from Ben Huset of New Brighton, MN; from Bryan Tobias of San Antonio, TX; from Bill Arnold of Woolmarket, MS; from Thomas Faber of Marietta, GA;
CLEAR AIR RAINBOW: Two days ago, photographer Martin McKenna was driving down a country road near Maghera, Northern Ireland, when he saw a curious thing. "There was a faint rainbow arcing through the crystal-clear blue sky," he says. Rainbows usually require rain, so a clear air rainbow is a curious thing indeed. Where did it come from? The answer may be found below McKenna's picture of the phenomenon: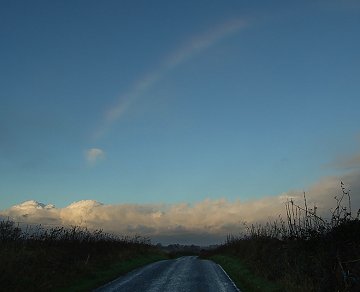 "There was some rain," explains McKenna. "Strong winds had blown some precipitation over from the northwest where showers where gathering in the distance, and this is what caused the 'bow. It looked most unusual."
Atmospheric optics expert Les Cowley says that there is another way to make clear air rainbows. The method requires conditions of high humidity: "A rainbow can be formed by droplets condensing in a layer of saturated and otherwise apparently clear air. Droplets formed in this way tend to be small, and the rainbows they make are relatively broad."
"Clear air rainbows are always a surprise," he adds, "and where the raindrops come from can be puzzling." Sky watchers should look for them any time the sky is blue.
---
November Northern Lights Gallery
[previous Novembers: 2008, 2007, 2006, 2004, 2003, 2002, 2001]
---
2009 Leonid Meteor Gallery
[previous Leonids: 1998, 2001, 2002, 2006]
---