MYSTERY OBJECT: Yesterday, astronomers in Arizona, New Mexico and Spain, all hunting for near-Earth asteroids, discovered a "mystery object" orbiting Earth. Temporarily named "9U01FF6," it is small and in an elongated, 31-day orbit. Experts say it is probably a piece of an Apollo-era Moon mission. We'll get a closer look on Oct. 29th when it zips past Earth about 82,000 km (0.2 lunar distances) away. Advanced amateur astronomers can find it using this ephemeris.
BIG SUNSPOT: By unleashing six C-class solar flares in the past 48 hours, sunspot 1029 has become the most active sunspot of the year so far. This morning, Paul Haese photographed the maelstrom from his backyard observatory in Blackwood, South Australia: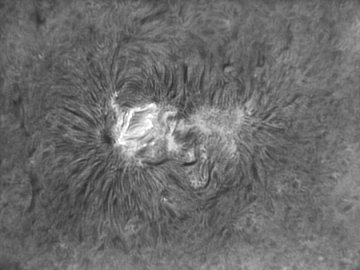 "It's a fantastic beauty," he says. "I took the picture using my Coronado SolarMax60 and a Lumenera Skynyx 2-0 digital camera."
The sunspot is growing rapidly (movie), making it an expanding target for backyard solar telescopes. If you have one, take a look!
sunspot images: from Marco Vidovic of Stojnci, Slovenia; from Pavol Rapavy of Observatory Rimavska Sobota, Slovakia; from Pete Lawrence of Selsey, West Sussex, UK; from Gianluca Valentini of Rimini, Italy; from Michael Buxton of Ocean Beach, California; from Emiel Veldhuis of Zwolle, the Netherlands; from Alan Friedman of Buffalo, NY; from Cai-Uso Wohler of Bispingen, Germany; from Steve Rismiller of Milford, Ohio; from Fabio Mariuzza of Biauzzo, Italy; from Bruno Nolf of Otegem, Belgium; from Brian Colville of Maple Ridge Observatory - Cambray, ON
MONDAY NIGHT SKY SHOW: Last night, people around the world witnessed a bright and beautiful alignment of Jupiter and the Moon. "Here they are with some tasteful Halloween decorations in Los Angeles," says California photographer Bob Northup: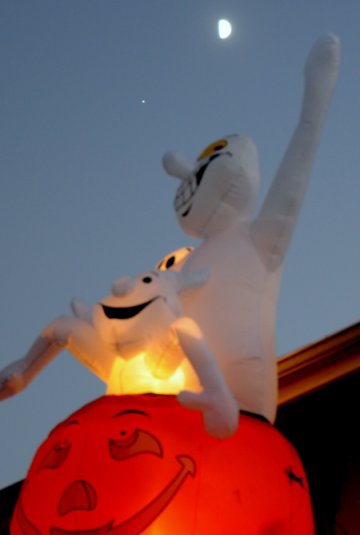 The scenery was a little spookier in Buffalo, New York, where amateur astronomer Alan Friedman caught the pair beaming through gnarly trees outside his house. "I also found some ghosts of the first quarter Moon reflected in the lens of my camera," he says.
Readers who missed the conjunction can see it happen again on Nov. 23rd, almost a month from now. That's how long it will take for the Moon to circle the sky and rejoin Jupiter. Mark your calendar.
more images: from Darrell Oake of Halifax Nova Scotia, Canada; from Aaron Top of Shallow Lake, Ontario, Canada; from M. Raşid Tuğral of Ankara, Turkey; from Azhy Chato Hasan of Erbil city, Kurdistan Region, Iraq; from Stefano De Rosa of Turin, Italy; from Florin Marc of Tirgu Mures Romania; from John C McConnell of Maghaberry Northern Ireland; from Doug Zubenel of De Soto, Kansas; from Mohammad Mehdi Asgari of Arak,Iran; from Stephen McCaul of NW Scotland
---
October Northern Lights Gallery
[previous Octobers: 2008, 2007, 2006, 2004, 2003, 2002, 2001]
---