MONDAY NIGHT SKY SHOW: When the sun sets on Monday, Oct. 26th, go outside and look south. Jupiter and the Moon are converging for a beautiful conjunction. The bright pair can been seen even through thinly-clouded skies and city lights. Don't miss it: sky map.
photos: from M. Raşid Tuğral of Ankara, Turkey; from Azhy Chato Hasan of Erbil city, Kurdistan Region, Iraq
BIG SUNSPOT: The sun is showing signs of life. Over the weekend, sunspot 1029 emerged and it is crackling with B- and C-class solar flares. Amateur astronomer Gianluca Valentini of Rimini, Italy, took this picture just hours ago: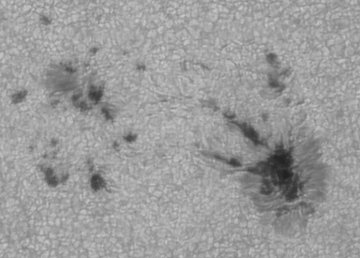 "Incredible size and structure for this sunspot after such a long time of mini-events--maybe the sun really means business this time!" says Valentini.
In Ocean Beach, California, Michael Buxton made a movie of the active region: play it. "My girlfriend and I watched the magnetic fibrils around the sunspot as they surged and swirled," he says. "It was a wonderful area of activity."
The sunspot's magnetic polarity identifies it as a member of new Solar Cycle 24. If it continues to grow at this rate, sunspot 1029 could soon become the biggest sunspot of 2009. Readers with solar telescopes are encouraged to monitor developments.
sunspot images: from Emiel Veldhuis of Zwolle, the Netherlands; from Alan Friedman of Buffalo, NY; from Cai-Uso Wohler of Bispingen, Germany; from Steve Rismiller of Milford, Ohio; from Fabio Mariuzza of Biauzzo, Italy; from J. Maciaszek, J. Stetson of South Portland, Maine; from Etienne Lecoq of Mesnil Panneville, Normandy, France; from Mike Borman of Evansville, Indiana; from Emiel Veldhuis of Zwolle, the Netherlands; from Vahan Yeterian of Lompoc California; from Fabio Acquarone of Genova, Liguria, Italy; from Jan Timmermans of Valkenswaard, The Netherlands;
NORTHERN LIGHTS: A solar wind stream hit Earth on Oct. 24th and sparked geomagnetic storms around the Arctic Circle. "The auroras were extremely active with fast-moving curtains of green, blue and red," reports Niels Giroud of Mo i Rana, Norway, who recorded the scene using a Nikon D200: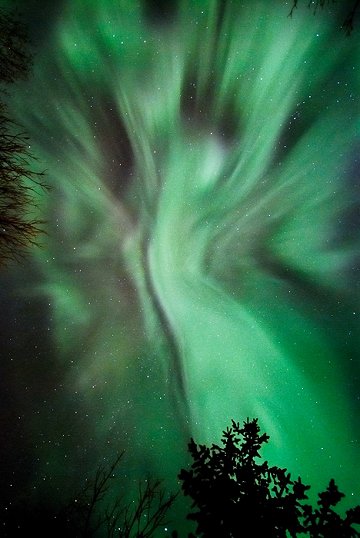 Coming just a week before Halloween, the display was appropriately spooky-looking. But it can't hold a pumpkin's candle to the Halloween storms of 2003 when blood-red Northern Lights startled sky watchers as far south as Florida and Texas. A movie from NASA recalls the ghoulish tale: 6 MB or 32 MB mpeg.
UPDATED: October Northern Lights Gallery
[previous Octobers: 2008, 2007, 2006, 2004, 2003, 2002, 2001]
---
2009 Orionid Photo Gallery
[full story] [sky map] [previous years: 2006, 2008]
---