| | | |
| --- | --- | --- |
| BEHOLD THE SUN: Would you like to see fiery prominences and new-cycle sunspots with your own eyes? On sale now: Personal Solar Telescopes. | | |
CANADIAN FIREBALL: On Oct. 15th, with no warning, a small stony entered Earth's atmosphere over eastern Canada where it exploded some 37 km above the ground. Movies of the fireball from seven different points of view have just been released by the University of Western Ontario. Using the movies to determine the asteroid's trajectory, researchers have figured out where fragments of the asteroid may have landed; the hunt for meteorites is underway: map.
ORIONID METEORS: Photographing Orion in late October can be tricky. The problem is, meteors keep getting in the way. Just last night, Oct. 26th, German photographer Jens Hackmann was wrapping up a 33 minute exposure when an orange meteor flashed by the Hunter's shoulder: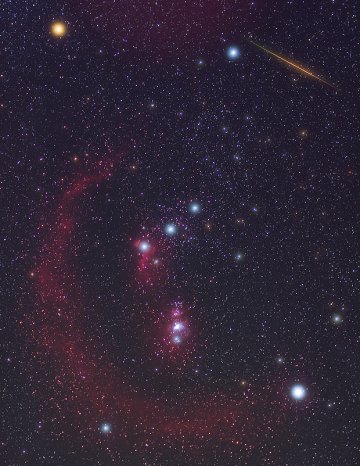 Hackmann's camera, a Canon 40D, caught a piece of Halley's Comet hitting Earth's atmosphere. Every year around this time, Earth crosses a stream of debris from Halley and the encounter creates a meteor shower called the Orionids. This year's display was not only strong (a maximum of 40 meteors/hr on Oct. 21st) but also persistent: The shower lasted for five days and is only now subsiding. Browse the gallery for more meteors "getting in the way":
2008 Orionid Meteor Gallery
[IMO meteor counts] [2006 Orionids]
BONUS: Sometimes spaceships get in the way, too: photo.
VOLCANIC SUNSETS: Three months ago, Alaska's Kasatochi volcano erupted, hurling more than a million tons of volcanic ash and sulfur dioxide into the stratosphere. Much of that "stuff" is still up there. It's drifting around the northern hemisphere causing displays like this: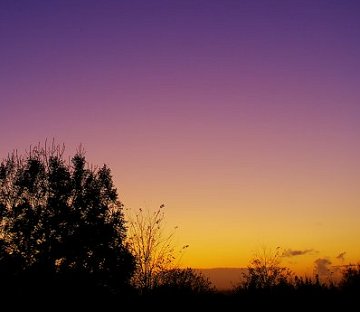 "After sunset on Oct. 26th, I saw a lovely purple colour in the western sky," says photographer Pete Glastonbury of Devizes, UK. "It lasted for about 15 minutes."
Purple is one of the telltale signs of a volcanic sunset. Fine volcanic aerosols in the stratosphere scatter blue light which, when mixed with ordinary sunset red, produces a violet hue. But purple isn't the only thing to look for, says atmospheric optics expert Les Cowley. In addition, he advises, "be alert for a very bright yellow twilight arch, fine cloud structure in the arch seen through binoculars, and long diffuse rays and shadows from the west."
One or more of these flags may signal a wisp of volcanic debris drifting over your hometown. Go outside at the end of the day and look west. Kasatochi could be waiting.
more images: from Jeffrey Berkes of West Chester, PA; from Liem Bahneman of Bothell, WA; from John Flude of Lower Willingdon, East Sussex UK; from Andy English in the Cibola National Forest of New Mexico.; from P-M Hedén of Vallentuna, Sweden;
---
Oct. 2008 Aurora Gallery
[Previous Octobers: 2007, 2006, 2004, 2003, 2002, 2001, 2000]