| | | |
| --- | --- | --- |
| BEHOLD THE SUN: Would you like to see fiery prominences and new-cycle sunspots with your own eyes? On sale now: Personal Solar Telescopes. | | |
MONDAY MORNING: Waking up before dawn to go to work? Grab your coffee and dash outside. In the eastern sky, Mercury and an incredibly-slender crescent Moon are side-by-side, beaming through the first glow of sunrise. (Binoculars may be required to find the Moon.) It's a nice way to start the day: sky map.
ORIONIDS STILL ACTIVE: Amazingly, the Orionid meteor shower is still active. Four days after the shower's nominal peak, worldwide observers are still counting 10+ meteors per hour during the dark hours before sunrise. On Oct. 25th, Thomas O'Brian witnessed "a fireball exploding and leaving a smoke trail that drifted for more than 22 minutes." He photographed the smokey debris floating over the countryside near Aspen, Colorado: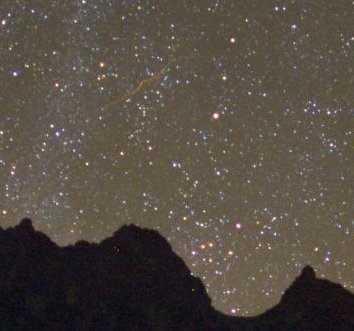 Click to launch a 0.6 MB movie
This ongoing display is caused by a trail of dusty debris from Halley's Comet crossing the October portion of Earth's orbit. Until further notice, keep an eye on the pre-dawn sky; you might see an Orionid!
2008 Orionid Meteor Gallery
[IMO meteor counts] [2006 Orionids]
THE FACE OF THE SUN: You've heard of the Man in the Moon. Now behold the Face of the Sun: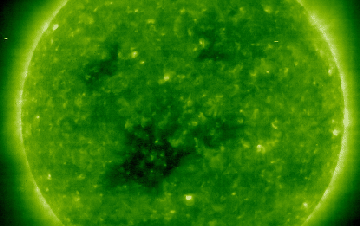 The picture was taken this morning by SOHO's extreme ultraviolet telescope. The dark eyes and laughing mouth are coronal holes, places in the sun's atmosphere where the magnetic field opens up and allows solar wind to escape. A stream of solar wind flowing from the mouth should hit Earth on or about Oct 29th, possibly sparking geomagnetic storms around the Arctic Circle. High-latitude sky watchers should be alert for auroras.
Oct. 2008 Aurora Gallery
[Previous Octobers: 2007, 2006, 2004, 2003, 2002, 2001, 2000]