CHRISTMAS PROMINENCE: So, you received a solar telescope for Christmas? Perfect timing. A plume of hot gas is spewing over the northeastern limb of the sun, beckoning for attention. Take a look!
photos: from S. Billings et al of South Portland, Maine; from Mike Borman of Evansville, Indiana; from Francisco A. Rodriguez of Gran Canaria, Canary Islands; from James Screech of Bedford, England; from Peter Desypris of Athens, Greece; from Stephen Ames of Hodgenville, Kentucky;
EDGE-ON FOR THE HOLIDAYS: You look through the telescope. Blink. Shake your head and look again. The planet you expected to see in the eyepiece is not the one that's actually there. Too much eggnog? No, it's just Saturn's crazy Christmas tilt: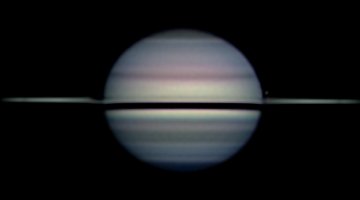 Amateur astronomer Paulo Casquinha took the picture last night from his backyard observatory in Quinta do Anjo, Portugal. It shows how Saturn's rings are almost edge-on to Earth this holiday season. Viewed from the side, the normally wide and bright rings have become a shadowy line bisecting Saturn's two hemispheres--a scene of rare beauty.
"Everyone should take a look before the rings begin to open up again at the end of the month," says Casquinha. A nice bonus: When the rings are thin, Saturn's moons become easier to see. "Note the small spot above the rings on the right; that's Rhea."
more images: from Masa Nakamura of Otawara, Tochigi, Japan; from Koshu Endo of Tokyo Japan (note: Endo's video shows an Earth-orbiting satellite zipping by Saturn)
NACREOUS CLOUDS: In the stratosphere above Scandinavia, the winter air temperature has dropped below -85 C. That's a magic value. At such temperatures, tiny crystals of ice begin to form in the desert-dry air 9 to 16 miles high. And when that happens, voilà--nacreous clouds: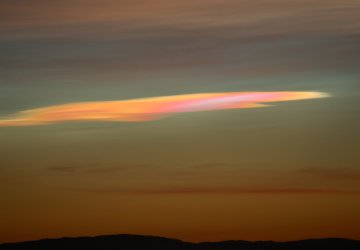 "This one appeared after sunset on Christmas Eve," says Tor Aslesen of Oslo, Norway, who snapped the picture using his Nikon D50. "It was almost florescent, the way it stood out against the darker twilight sky."
Nacreous clouds are a polar phenomenon. They get their intense colors from sunlight striking ice crystals ~10 microns in diameter. Diffraction produces iridescence, a phenomenon familiar to daytime sky watchers around the world. Unlike the relatively pale iridescent clouds of mid-latitudes, however, polar nacreous clouds are blow-your-Christmas-socks-off bright.
Northern winter is just beginning and the polar stratosphere will grow even icier in the weeks ahead. Sky watchers in cold places like Scandinavia, Iceland and Alaska should be alert for nacreous colors; the best time to look is during the twilight hours after sunset or before sunrise.
Dec. 2008 Nacreous Cloud Gallery
[January 2008 Gallery] [Nacreous tutorial]