SANTA SIGHTINGS: Santa Claus has been sighted--and he's on foot. Marek Nikodem sends this photo of St. Nick from Szubin, Poland. "Santa seems to be following the Christmas Star, a.k.a. Venus," he says. One can only assume the reindeer are not far behind. Update: Hours later, Koshu Endo spotted the sleigh flying past Saturn over Tokyo, Japan. A close-up shot by astrophotographer Jason Ware reveals that Santa is back on board.
NEW SUNSPOTS: This morning, Dec. 24th, NASA's STEREO-B spacecraft photographed a pair of active regions emerging in the sun's southern hemisphere. Clouds of hot glowing gas detected by STEREO's extreme UV telescope probably mask a pair of new-cycle sunspots underneath: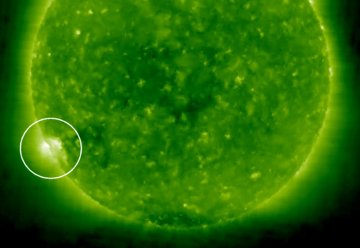 The clouds and spots are not yet visible from Earth. STEREO-B is stationed over the sun's eastern limb where it can see things up to three days before the sun's rotation turns them toward our planet. So, consider this a sneak preview.
Readers, if you have a solar telescope, keep an eye on the eastern limb. Something is coming. ETA: Dec. 26th.
INDUSTRIAL GRADE DIAMOND DUST: "A few mornings ago, I was driving to work on Green Bay's highest bridge when a mixture of fog and emissions from local smokestacks drifted across the highway," reports Peg Zenko from Wisconsin. "Traffic slowed to a crawl. I looked up in my rearview mirror and noticed this beautiful sun pillar."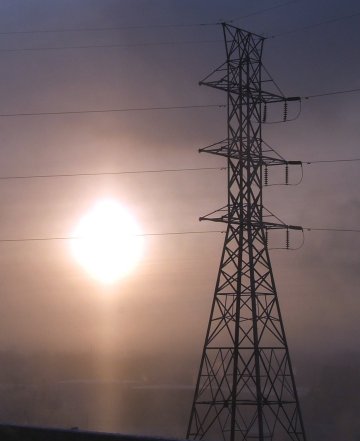 "I call the photo Industrial Grade Diamond Dust," she says.
Diamond dust is a fanciful name for low-temperature ice crystals floating close to the ground. "The air temperature over the bridge was only -9 F," notes Zenko, "and winds were mild." These conditions caused water vapor in the smog to crystallize and hover at traffic-level. The crystals caught the rays of the rising sun and voilà--a sun pillar!
Winter weather storming across Canada and the northern USA is setting the stage for some wonderfully icy displays. There are sun pillars, sundogs, 22o haloes and a variety of luminous arcs. "I suggest pulling to the side of the road," says Zenko. Diamond dust can be very distracting!
more images: from Dave Boyle of Edmonton, Alberta, Canada; from Gary Cobus near Belle Plain, Minnesota;
---
Dec. 2008 Northern Lights Gallery
[Previous Decembers: 2007, 2006, 2005, 2001, 2000]